French brand Arpenteur creates simple but impeccable clothing inspired by French work wear in the 1930s, '40s and '50s. All of the garments are produced in France – one of the few contemporary menswear brands to do so – bringing traditional French culture back to life. Cousins Laurent Bourven and Marc Asseily set up the brand with no formal fashion backgrounds, just a mutual love for French vintage pieces. We sat down with Laurent to talk about Aprenteur, their AW15 collection and the inspiration behind the new pieces.
Shop the Arpenteur collection on Coggles >>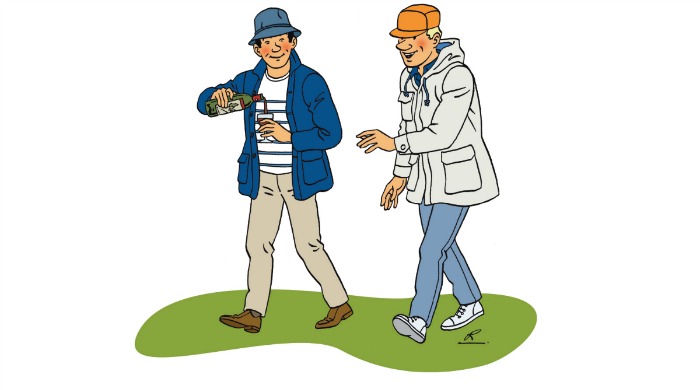 Question:

Tell us about Arpenteur

Answer:

The brand was created by my cousin Marc Asseily and myself in early 2011.

Based in Lyon, and both strongly influenced by popular French clothing, we aim at making classic men's garments that we entirely create and try to complete with elements of this French culture, in order to evoke a very unique feeling of continuing the past through a contemporary expression.

We use French fabrics as much as possible and exclusively work with local factories to make our productions.

Question:

What was the inspiration behind the AW15 collection?

Answer:

The main point was to get a very narrow colour palette, made of navy, grey and white shades that give a strong unity to very diverse pieces. Our collections now have about 90 references and we work on complete silhouettes. Products are very different among the same line, technically and aesthetically (from knitwear to scarves to outerwear). Starting with colours and fabrics from a reduced palette to assemble the line is very challenging, but it gives us strong inspiration to create new styles and help to make everything coherent.

Question:

How does it differ from past seasons?

Answer:

Our guideline of creating simple garments for today is still here; the major update was the colour choice as mentioned above. Additionally we simply updated the styles, either by fabric (new and richer textures, new patterns) or functionality (adding a hood to an existing style, updating the pockets for more comfort, etc.) We like the idea of giving small improvements that people cannot directly point but they can feel by wearing our pieces. I believe this was our best line so far!

Question:

Do you have a favourite piece from the new collection?

Answer:

Probably the Kaolin jacket. This is the perfect illustration of our intentions. We made this style for SS15 first, in a striped cotton jersey; the aspect was very sporty then. By changing the fabric from that to a lightweight plain wool/cotton mix, and adding small details like an Éclair zipper and corduroy lining, the garment was something else, a hybridisation we like to create (and hope will be enjoyed).

Question:

Does your personal style influence your designs?

Answer:

We wear our own brand every day, so I can answer positively! The starting point of Arpenteur was to create pieces we had in mind but couldn't find anywhere. Before launching it, we were wearing casual wear from other brands and wanted to extend our point of view into our own creations. Also, the idea is "if we can't wear it, we do not release it".

Question:

Arpenteur is still a young brand – has it changed at all since it was founded in 2011?

Answer:

The brand has slowly changed, of course. We learnt a lot by spending time in the factories and suppliers. I guess you can easily feel the difference from our first pieces to the very new ones. The spirit is the same, but today we know much better how to improve a design from sample #1 to the final unit.

Question:

Who would you like to see wearing Arpenteur?

Answer:

Anyone from 15 to 75 who puts his interest into the story of a garment and has a keen eye on subtle details that make sense.

Question:

What has been the highlight for Arpenteur so far?

Answer:

Our collaboration with the French Illustrator Régric, who has done all the artwork and drawings for the brand since the very start. His style, inspired by Hergé's "ligne claire" adds a lot to Arpenteur's atmosphere and inspiration.

Question:

What can we expect to see next from the brand?

Answer:

We are currently working on capsule collections with two brands (one in Japan, one in the UK). We expect the products to be released early 2016!
Words by Angharad Jones. Image courtesy of Arpenteur.