It may be new to Coggles this season, but Finnish sneaker brand Karhu is built on a rich 100-year heritage involving dozens of Olympic medals and a deal with a then-little-known German athletics brand wanting to purchase Karhu's original three-stripe branding.
Karhu has provided its native Finnish Olympians with running shoes for over a hundred years, but in more recent years the brand has developed a cult international following thanks to its retro sneaker collection. With Kanye West snapped wearing the brand's relaunched Fusion 2.0 model in 2017, Karhu was given some well-overdue limelight and the brand has proved something of a treasure trove find for avid sneaker aficionados offering an extensive archive of iconic silhouettes.
The brand origins
Despite being something of a recent discovery for many footwear fans, Karhu was originally established in a small workshop in the side streets of Helsinki back in 1916. Ab Sportartiklar Oy, as it was known in those days, used locally sourced birch to create javelins, skis, discuses and other sports materials. Finnish birch was discovered to be uniquely lightweight and flexible, opening up a realm of sporting opportunities for the brand. Next up, Karhu tried its hand at creating running spikes using the material. The rest, as they say, is history.
In 1917, Karhu made its first foray into the US on the feet of Hannes Kolehmainen, the four-time Olympic Gold medallist and first "Flying Finn", and Ville Ritola, the "Flying Wolf", who both raced at Berwick, PA in 1917.
Three years later in 1920, Ab Sportartiklar Oy officially became Karhu—taking its name from the Finnish word meaning "bear". That same year, Karhu truly made its mark on the sporting world when it dominated the 1920 Olympic Games in Antwerp. The "Flying Finns" took five gold medals on the track in Karhu spikes, while Finnish athletes took all three medals in the javelin using Karhu's birch javelins. Finland came away as the fourth most successful nation at the games, and shortly after Karhu became Finland's official equipment provider for all Olympic games.
Over the next eight years, Paavo Nurmi would bring nine Olympic gold medals back to Finland, setting 22 official world records along the way. And all wearing Karhu spikes, of course.
These early years marked just the beginning of Karhu's influence on the sporting world. Over the next 50 years, the brand would have a substantial presence at the Olympic games in more ways than one.
In the 1920s and 1930s, Karhu founder Arno Hohental encouraged factory workers to get outdoors and train during their lunch hours; by 1932, his initiative paid off big time when Karhu factory workers Matti Järvinen (javelin) and Lauri Lehtinen (5000m) won gold in Los Angeles. Despite the impact of the Second World War when Karhu supported the Finnish army by manufacturing camouflage uniforms, platoon tents, army boots, rucksacks, and skis, Karhu continued its Olympic legacy post-war, dominating the 1952 Olympics on home soil in Helsinki with 15 gold medal-winning spikes on the feet of athletes including Emil Zatopek.
A Change of Course: Three Stripes No More
For its first 35 successful years, Karhu had identified its gold medal-winning spikes using three distinct stripes on the side of its shoes. But in 1951, a little-known German brand contacted Karhu interested in purchasing the rights of its three-stripe branding. Thinking nothing of the deal, Karhu agreed to sell its three-stripe trademark for the equivalent of €1,600 and two bottles of good whiskey as a sweetener. It's believed the German brand went on to find its own success in the sporting world over the years to come…
Karhu replaced the three stripes with an equally striking brand mark: its now famous M-symbol. Symbolising the word "Mestari" or "champion" in Finnish, Karhu's symbolic M was officially registered in 1960 and coincided with the production of the brand's first trainer, the Trampas. Two versions of the shoe were originally produced: one with an M logo for around the track and a second without a logo for casual wear.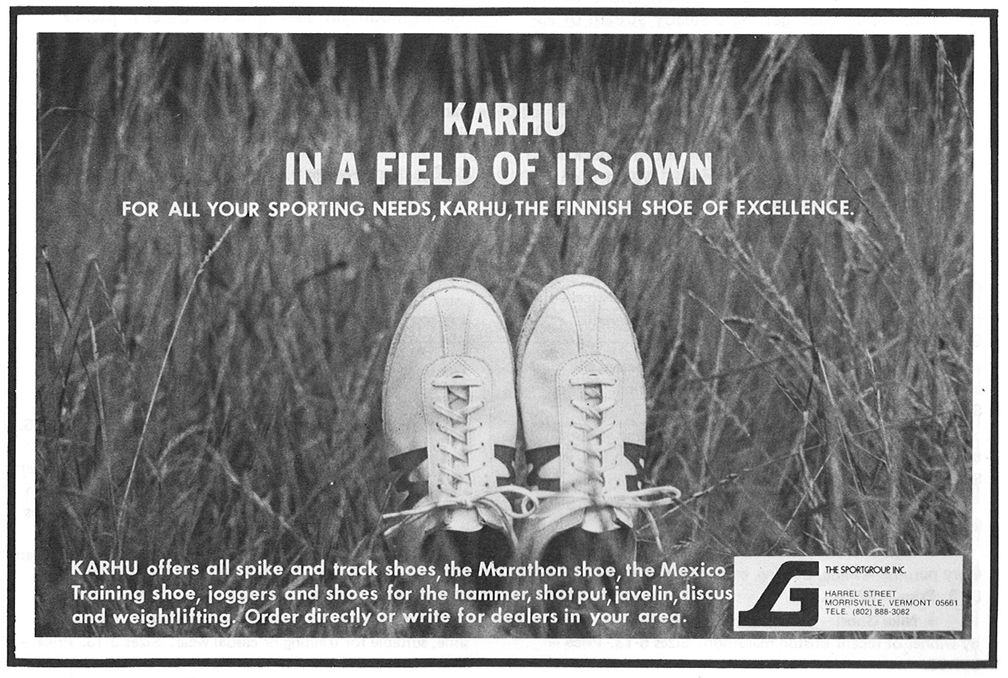 Air Cushion™ & Fulcrum: Technological Advancements for a New Age
Continuing its tradition of industry-leading innovation, in 1970 Karhu developed its patented "Air Cushion" midsole system for its running footwear. Karhu's Champion model, the hero trainer for the Air Cushion technology, became an instant top seller with runners worldwide, selling over 1,000,000 pairs globally.
But by 1980, many competitors had followed Karhu's lead and were adding large air bags, gel pockets and similar technologies to their running shoes to recreate the impact of Karhu's Air Cushion. Meanwhile, Karhu was working with the University on the creation of a new technology, called "Fulcrum".
While the industry was trying to provide greater bounce and cushioning for runners, Karhu figured that what runners needed was a shoe that moved them forward rather than up and down. Independent research shows that runners bounce up and down half an inch less per step benefitting from Karhu's pivoting Fulcrum technology, helping runners conserve energy in their stride for a greater performance.
Karhu Originals: Retro Classics Reinvented
To celebrate its 100-year heritage, Karhu launched a retrospective line of lifestyle sneakers in the early 2000s. The Karhu Originals collection takes iconic silhouettes including the Aria, Synchron, & Fusion 2.0—shoes once considered the very best running shoes in the world—and given them a vintage-inspired update for the 21st century. Clean silhouettes and a high-quality construction are combined with vibrant colourways to build a collection that channels the past to take inspiration for the future of Karhu footwear.
Karhu Synchron Classic