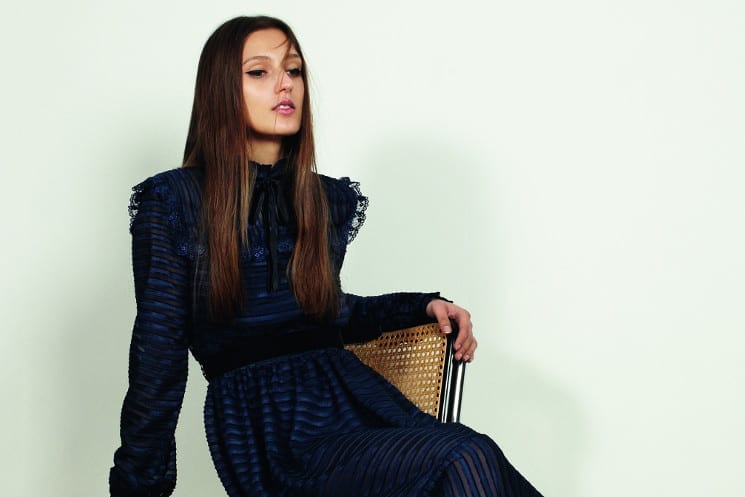 Since launching in just Spring this year, East London-based Perseverance London has become Britain's newest fashion darling, loved for its sweet-meets-tough designs that appeal to that sense of feminine style for the 21st century. Bold, innovative styles with intricate lacework make up the label's aesthetic, with AW16 (its second collection) taking on a dramatic Victoriana feel. We sat down with founder and creative director Eudald Luis to find out more.
Shop Perseverance London on Coggles >>
Question:

How would you describe Perseverance London?

Answer:

A mix between vintage but with a modern touch (especially with some of our fabrics and silhouettes). The collection is  feminine and demure with some masculine notes and rich in fabrication and details without making the garments super expensive. I see the collection as affordable luxury.

Question:

The brand first launched with its SS16 collection – how has the reaction been from the fashion industry and from customers?

Answer:

It has been very positive from day one. We didn't know we were going to have such amazing stockists and sales reaction in general.

Everybody seems to be loving the brand and commenting about it. With the AW16 collection we are having a bigger press reaction.

Question:

How does the AW16 collection differ from Spring/Summer?

Answer:

AW16 it is definitely a bigger collection than SS16 and it has a clearer trend/message. There are still similar elements in both of them. I am looking forward to the SS17 collection dropping.

Question:

Where do you find inspiration for your designs?

Answer:

London streets, vintage shops, social media (Instagram mostly), blogs and street style websites, magazines, catwalks. I tend to have a broad selection of references that I put together to create my own look of things.

Question:

You're based in East London – how does the city influence your collections?

Answer:

A lot! London has always inspired me. Since the first time I visited as a tourist  at the end of the '90s to the present day.

Because of the social media we see London style more but back in the day it was all so fresh. There is mix between new and old, high street and luxury in London. I like the way extremes work and in the right doses it makes the look.

People have attitude in London and they are not scared to wear certain things. I love that.

Question:

Who would you like to see wearing your designs?

Answer:

Well, I would definitely love to see Kate Moss in one of my designs! She is my ultimate diva and I guess dreaming is for free.

I would also like to see Keira Knightly, Alexa Chung, Chloe Sevigny. I admire these women and I feel they have very strong personalities. They are not scared to wear what they like but also look great every day.

Question:

What can we expect to see next from Perseverance London?

Answer:

I guess SS17, which it is the biggest and boldest collection yet.