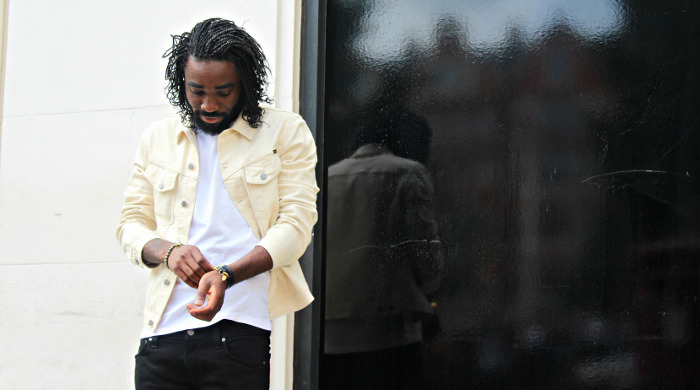 Charley Van Purpz wears the Nudie Jeans Billy Denim Jacket, Nudie Jeans Long John Skinny Jeans and Clarks Originals Trigenic Flex Shoes.    
Stylist, designer, reluctant model; there isn't a lot that Charley Van Purpz doesn't do when it comes to the world of fashion. With a distinct personal style that blends simple tailoring with streetwear, he's a favourite with street style photographers at London Collections Men but his real passion is what goes on behind the camera – as he told us when we sat down with him after the SS17 shows.
A stylist for the past six or seven years, Charley has worked with brands like Valentino, Converse and Levi's, publications such as the whimsical, London-based magazine Lula, been headhunted to join one of the world's biggest high street brand's design team, and had gigs styling the likes of Fuse ODG for the MOBO Awards (oh, and he goes out for dinner with Rihanna when she's in town).
Considering his success, his path into this increasingly competitive career seems as though it was a relatively easy one: "I went to RADA so I've always been creative. When I finished I took a gap year to chill, and taught dance and basketball. I always enjoyed fashion and helped out my friend who was a makeup artist at fashion week. It came very naturally to me. I wanted to know more so I went to do design technology and visual merchandising at UEL. Then I stuck to it and here I am."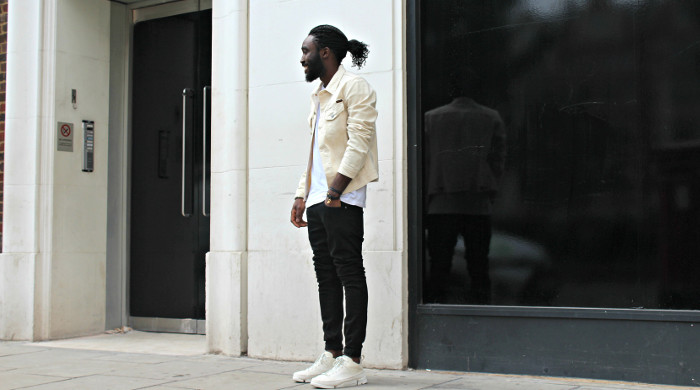 Six years may not seem like a long career but fashion is anything but stagnant, and Van Purpz has seen a lot of change – especially with the influence social media now holds over the industry. "When I started social media wasn't as big. Now, everyone's a stylist on social media. It's good but it's a bit more stressful now because everyone's a stylist and it's becoming more and more about who you know. It's frustrating when you've been working so hard and know people who work really hard but it's the people who know people who get the jobs.
"I love the fashion industry, I love the fact that it's in London, although we'll probably lose it now thanks to Brexit and it will probably all move over to Paris. Social media makes it easier to get involved in the fashion industry but it's also harder to get the jobs because there are so many people.
"Social media helped me grow and connect with a lot of people. I use my Tumblr more than anything else. If you use social media well you can do really with it. It makes you very accessible to everyone; I get messages from people in the USA and Japan purely because of it – I have my own TV show in Japan and Korea, where every season they follow me for a month."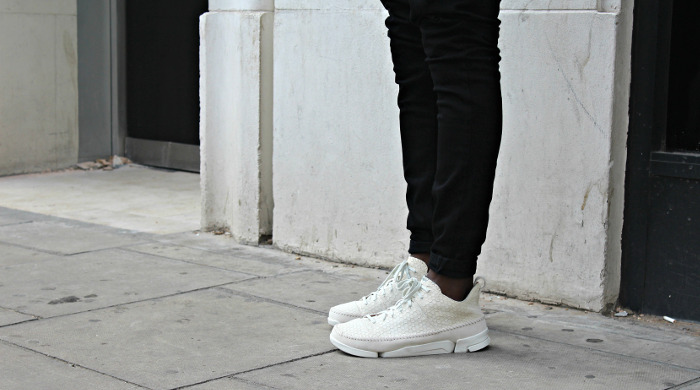 Bloggers come part and parcel with the social media phenomenon. Once dismissed by editors and designers, some bloggers now dominate fashion weeks and will often have more influence on brands and trends than well-established publications. As a stylist, it's a change that Charley has witnessed first-hand, and it's a change he has mixed feelings about.
"In some ways it's really good, and in other ways it's really bad. I know a lot of bloggers and they're great at what they do, it's a great platform. Some of them work as well and they know what they're doing. Because it's such an easy access, there are a lot of phoneys who make the rest of us look bad.
"There are so many bloggers, so it feels like designers don't really try anymore. I'm not saying it's a bad thing but I feel like it slows down creativity – they get lazy and just do things that they think people will want. Instead of doing something new they think about what everyone was wearing this last season and recreate it. Like bomber jackets – they weren't the norm and now every designer is doing it. Bloggers were wearing all those vintage ones so now every designer wants to get involved."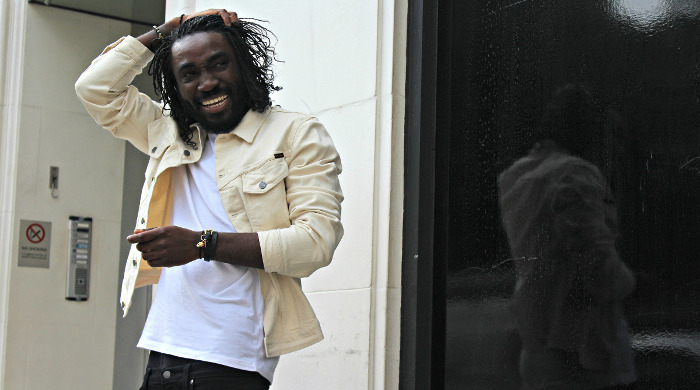 As with a lot of elements of popular culture, hype is a big part of fashion and trends – but Charley doesn't think it's always a good thing. Case in point: Vetements. The French label founded by Georgian designer Demna Gvasalia (previously at Maison Margiela and Louis Vuitton and now creative director at Balenciaga), Vetements has been shaking up the fashion industry with its DHL t-shirts and stepped hem sweatpants for the past few seasons. It's a brand on everyone's lips; a brand that's seen as revolutionary – by everyone, that is, except Charley Van Purpz.
"Vetements is terrible. He's [Gvasalia] the head designer of Balenciaga now too and his collection was terrible. No one's saying it's bad but it's terrible. If you want to change fashion, fine, but not for the worse. A lot of designers now forget who they're designing for and they just design for a performance and to create a stand-out piece. I hate the hype behind it now. I don't mind oversized stuff but it's garbage. Streetwear's come a long way but Vetements is imposing it on the younger generation who have jumped on the hype. It's tracksuits bottoms and a hoody – if people saw somebody wearing that from a sports shop, they'd insult them. But because it's Vetements, it's applauded.
"I judge a lot – not by personality but how people look – it comes with what I do. Why would you pay money to look homeless? The younger generation is going to lose what it means to dress well. Make something that someone will wear – a lot of designers forget that and just follow the hype.
"Balenciaga is meant to be couture but he did a velour tracksuit. Nothing was handmade. I feel like he watched The Addams Family and stole his [Lurch's] swag. Nobody's written a bad review yet – I might have to take up that job."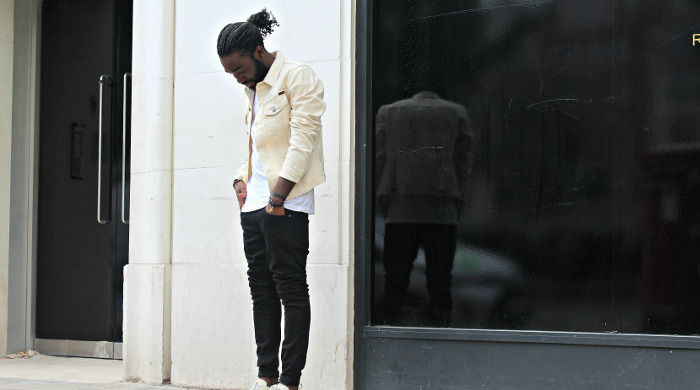 For Charley, the best style is simple and wearable: "A lot of people think it's boring when they keep seeing the same things. Like J.W. Anderson – he sticks to the same aesthetic so people think that's boring and he's not trying but it's not, I love it. 'Not normal' is the norm now and it gets worse every season; designers are seeing what people are wearing on the streets and recreating it on the catwalk."
As for brands, he lists Yohji Yamamoto, Christopher Raeburn and Junn. J amongst his favourites. "I love wearable fashion – something you see on the catwalk and then you can just wear it. I hate loud fashion. It's great to show that you can design those things but I need to be able to see myself wearing it on the streets. A lot of stylists now will put people in the loudest things, the craziest things but I like simple things – shirt, trousers, suit."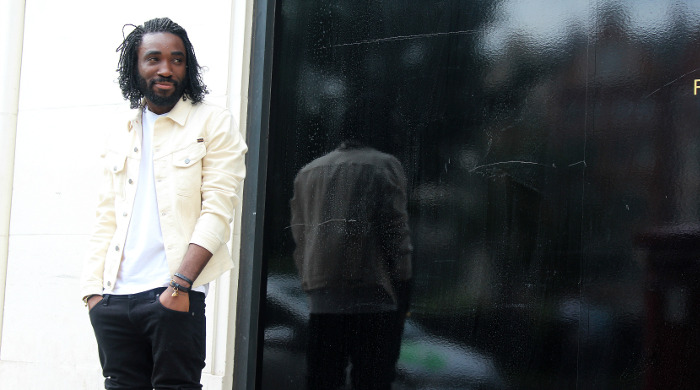 When he's not styling or leading the anti-Vetements revolution, Charley can often be found working with brands in front of the camera (just take a look at his Instagram), adding 'model' to his long list of achievements (just don't call him that). "I don't like being in front of the camera but my Instagram might say otherwise. Some brands now – like Converse – want me to be the face of it. If I can do both that's cool but I prefer to be the guy behind the camera than in front of it."
Charley Van Purpz isn't a man who keeps his feet still for very long, so we know whatever he does next is going to be good.
Follow Charley on Instagram here and shop his look on Coggles with the Nudie Jeans Billy Denim Jacket, Nudie Jeans Long John Skinny Jeans and Clarks Originals Trigenic Flex Shoes.    
Words by Angharad Jones. Images by Hollie Race