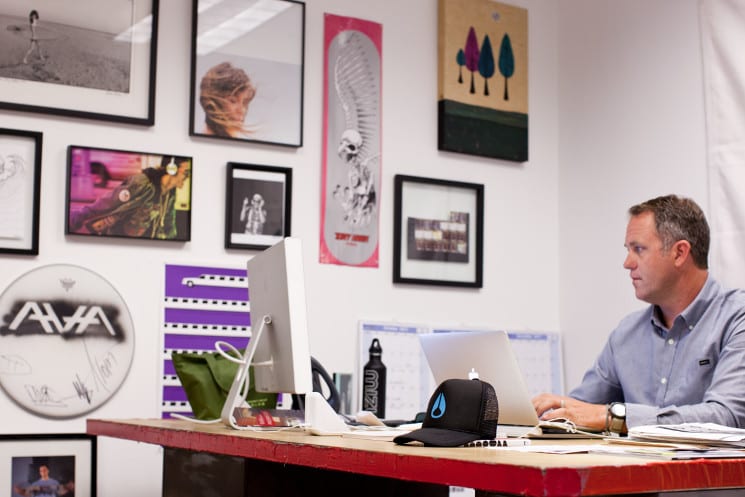 In 1997 Chad DiNenna and Andy Laats founded a company with the aim to create watches that could be worn everywhere from the surfboard and the skate park, to the ski slope and then straight to the restaurant. They needed to be high-spec, useful, stylish – and without an extortionate price tag. That company was Nixon, now a world-recognised brand creating timepieces for every eventuality that never compromise on style. We sat down with Chad DiNenna to find out more about the brand.
Shop women's Nixon watches on Coggles >>
Shop men's Nixon watches on Coggles >>
Question:

What does Nixon mean to you?

Answer:

More than words can describe. This has been my sole focus for nearly 20 years and has received more of my focus, time and attention then anything else in my life and I still smile when we talk about it. To me, Nixon means custom built, team designed. It's just as much about the process to create and doing it in collaboration with people you respect. Creating something you've never seen before and when you do, you realise you've always wanted it, that's us on our best days.

Question:

What made you want to start Nixon?

Answer:

I've always been into my watch. I worked at surf and skate shops growing up and made "watch bands" out of  "extra" pieces of neoprene, staples, duct tape and sold them at the counter for extra cash. While in college working at the shop I had a court-side seat watching independent surfing and skateboarding companies grow into Velcro Valley as global megabrands.

My friends created shoe, clothing, board brands and no one was focused on creating a watch company. It was clear to me that there was something missing. I was young and dumb and thought that if you have a good idea and no one is doing it, you do it yourself and so Andy and I started Nixon.

Question:

The brand started in the late '90s – how has it evolved since then?

Answer:

The root of what we do today is very similar but what we make and how we make it is significantly different. You get to travel around the world collaborating with ridiculously smart and talented people, you create the opportunity to learn, grow and evolve into a better version of yourself and we are still learning; the best idea wins at Nixon – it doesn't matter if you have been there 10 days or 10 years.

Question:

What inspires the designs for Nixon watches?

Answer:

Every design is different and while we have a focused and deliberate process the inspiration comes from doing what we do, that's what makes you special. For us it's about the people, places and things that have their impact in lots of different ways. From function and design to material selection and construction there are a lot of questions to answer with problems to solve to maintain that inspiration.

Question:

You're based in California – does that lifestyle or locale influence your designs in any way?

Answer:

Yes, California has a long history of doing things differently. Thinking really big for a moment you see wine, technology and automotive brands coming from California challenging the status quo. Come back down to reality, we were not competing with the old, conservative Swiss watchmakers. California embraces a counter culture mentality, bringing together an eclectic group of athletes, artists and friends is how we continue to do it.

Question:

Where would you like to see Nixon go next?

Answer:

Do what we are doing now, only better. You can always get better in what you do and how you do it. It's all in the details and we all challenge ourselves to continue to make products better, create better service,  and express better attention to the employees and friends who make us so damn good.