ONE TO WATCH – ALICE GIBBERD
Not many people make the connection between architecture and fashion design, but the structure of a garment is not a million miles away from a building, a pattern not dissimilar to a blueprint, a designer no different to an architect.
Though the medium is different, the technique, thought process and structural entities can be closely linked. We talk to recent RCA graduate Alice Thea Pryse Gibberd about her architectural influences, knitwear and creating her work…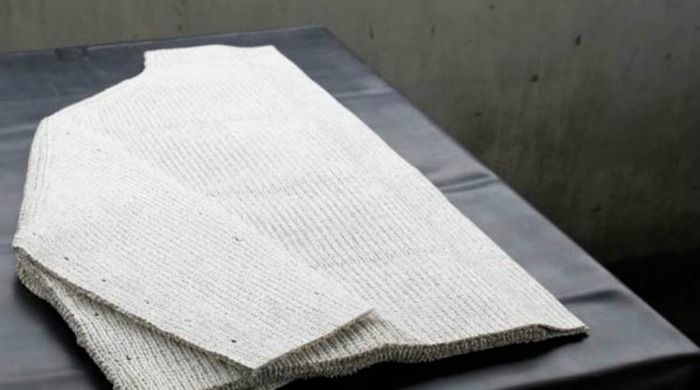 Question:

Tell us a little bit about your MA collection and your design style...

Answer:

My style revolves around a fascination with modernity and innovation. I'm constantly trying to challenge the traditional perception of knitwear and create pieces that are classic and wearable. My MA collection was based on light within architectural spaces, using a monochromatic palette to accentuate form I have tried to capture the sharp lines and graphic shadows within my research.

Question:

Why did you choose womenswear knitwear over other forms of design or art?

Answer:

I originally wanted to be a painter but found I enjoyed problem solving within design and began drawing with a purpose. I stumbled across fashion design on my foundation course and the mix of life drawing and 3D design was the perfect combination. I love the control that comes with designing knitwear, once the yarn is selected, everything else is up to me. The gauge, tension, process, is all carefully thought through, sampled, redesigned and then calculated in the final garment. By taking the yarn and creating my own 'fabric,' everything about the process is mine.

Question:

What's your favourite technique you have developed? And your favourite medium?

Answer:

As a practical person I love producing samples on the knit machines, right from the start these samples dictate the essence of the collection. Within my first few days at the Royal College I spent time rummaging through the yarn store and found polyurethane based yarn, which sparked a two-year investigation. My development of this material allowed me to represent sleek architectural lines in knitwear. I found that once knitted, the polyurethane could be heat-pressed,melting the fibres together, making the notoriously fragile structure permanent. The knitting could therefore be raw cut with a blade, resulting in a sleekness that's not usually associated with knit.

Question:

How has your Grandfather's architectural work influenced yours? Tell us a little about him and his work.

Answer:

My grandfather was the modernist architect Frederick Gibberd and was responsible for buildings such as Liverpool Metroplitan Cathedral, London Central Mosque and was the master planner for Harlow New Town. Although he died before I was born, my mum ensured that his character and design ethos surrounded me as I grew up, by telling stories about him and taking me to see his buildings.Coming from a family of architects and sculptors I have been influenced by their creativity, which has encouraged me to develop my own aesthetic. I am naturally drawn to architecture and sculptural forms, particularly looking at how light and dark are captured and the juxtaposition between soft tones and hard lines and how I can represent these in knitwear.

Question:

What's the most fun you've had during your time at the Royal College?

Answer:

This was the hardest, most all-consuming two years of my life – but I've loved every minute. I will never forget seeing my collection come to life on the catwalk and all the life-long friends who have gone through this amazing experience with me.

Question:

What can we expect to see from you in the future? What's next now you've finished your MA?

Answer:

I would initially love to gain experience within the industry and work my way up within a high-end company, I've just secured a role at COS and cannot wait to get started. In the future, I'd love to continue to work on my own label,producing small collections of pieces that can be commissioned to order.