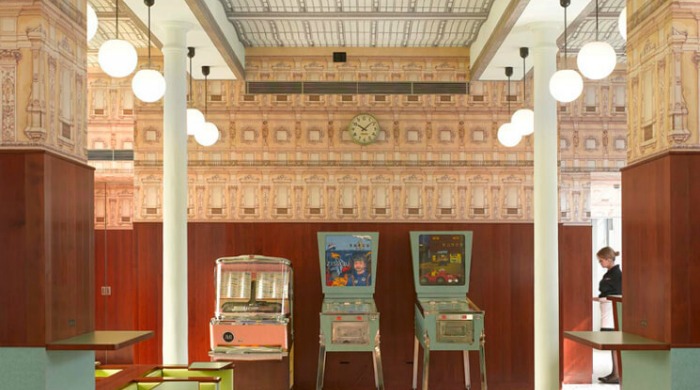 One part art gallery, one part museum, one part creative wonderland, Milan's Fondazione Prada might best be described as something of a regional artistic institution. Presided over by Prada matriarch Miuccia Prada and husband Patrizio Bertelli since 1995, the institution has hosted important solo exhibitions by iconic artists including Sam Taylor-Wood, Steve McQueen and Nathalie Djurberg in addition to film festivals and multi-disciplinary talks during its short lifespan. Last year, the Fondazione moved into new headquarters in the Milanese industrial south, transforming a former distillery into a breathtaking city of art that encapsulates the creative ambition of its directors.
A huge 19,000m² playground of creative space towered over by a tower with a glittering gold leaf facade, the Fondazione Prada's new HQ is an imaginative renovation led by OMI architect Rem Koolhaas and unveiled to the public in May 2015. Holding pieces from the Fondazione's permanent collection on display at all times, the building has already premiered a new Roman Polanski film, held an exhibition with 15 films chosen by Oscar-winning director Alejandro González Iñárritu, and is nonchalantly decorated with work by the likes of Jeff Koons and Donald Judd. Even if you want to stop for a quick coffee break, it seems impossible to escape the spectacular artistic focus of the Fondazione. The resident refreshment area, Bar Luce, is a kitsch café/bar space designed by film director Wes Anderson who has attempted to capture the atmosphere of a traditional Milanese café. 'While I do think it would make a pretty good movie set', Anderson says, 'I tried to make it a bar I would want to spend my own non-fictional afternoons in.'
While the Prada brand may best be known for its status as one of Italy's most prestigious luxury fashion houses, the Fondazione Prada truly shows the breadth of the brand's ambition. Already a key influencer in the contemporary fashion world, the Fondazione shows an admirable desire to go beyond that and became a central hub for Italian culture and art. For more information on the Fondazione Prada and to find out more about the institution's current and upcoming exhibitions, visit the official website.
Words by Liam Roberts. Images property of Fondazione Prada.