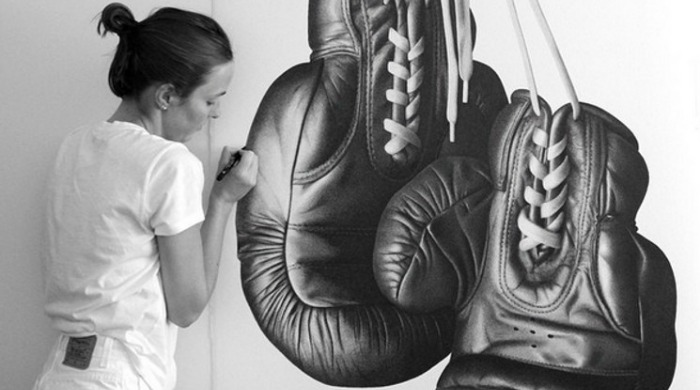 We were instantly taken with Australian artist CJ Hendry's ultra-realistic pen drawings when we spotted them on Instagram. Her work is incredibly simple yet extremely intricate at the same time, created with painstaking precision and nothing more than paper and a pen.
Depicting everyday objects from paper shopping bags to footballs, Hendry breathes artistic life into them with intense realism. The simplistic tools involved in their creation only make the viewer appreciate the skill and patience that has gone into the pieces.
Her process begins by taking hundreds of photos of an object, then selecting the image that best represents her simplistic style with good contrast between shades to focus on the object itself. She then prints the image and creates a grid on a large sheet of paper, then can spend over 200 hours painstakingly creating the final piece using just black pen. Her technique is drawing small scribbles and circles to create a pointillism effect.
CJ Hendry explains why she loves to create these pieces:
'The main reason I am so obsessed with expansive white backgrounds and highly detailed objects was through my early years of studying architecture. I was completely obsessed with the large plans with perfect lines, and this is where I was introduced to the black UniPin pens. I was not very good on the computer so I drew all my plans for all the assignments and drew detailed renderings of the buildings. The lecturers were not happy with me because I wasn't using CAD and said I better learn, so I dropped out.'
Her pieces are currently on sale on her Instagram profile and she is now represented by The Cool Hunter.
To see more work by CJ Hendry, visit her Instagram here.