The world's largest art fair, Art Basel has been exhibiting the best of modern art from galleries around the world since its inception in 1970. Starting off in Basel, it now has three art fairs a year – the original, in Basel, Miami, since 2002 and Hong Kong, which has just wrapped up its fourth edition.
Fast becoming the art fair to see and be seen, Art Basel Hong Kong is the must-visit destination for the best in new art, and news from the art world. It's where Tracey Emin bared all about her marriage to a rock in France, where Leonardo DiCaprio shopped for his latest pieces, and where luxury handbag label MCM launched its collaboration with German artist Tobias Rehberger.
First and foremost though, Art Basel Hong Kong is all about the art and the galleries that house it; here are our best from the fair.
Lawrie Shabibi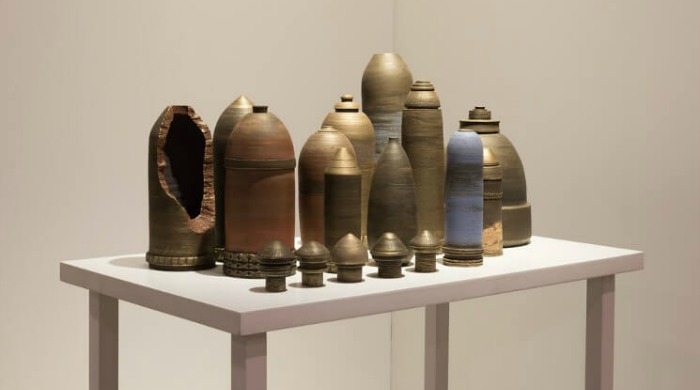 For its first showing at Art Basel, Dubai gallery Lawrie Shabibi presented 'Recentring Modernism', with works by Farhad Ahrarnia and Shahpour Pouyan. Both Iranian, the artists draw parallels between their subjects and early Modernists, with Ahrarnia's work exploring the ancient art of crafting a Khatam (pictured) and Pouyan's work looking at a recently-destroyed by ISIS mausoleum in Iraq which resembled a Cubist structure – built 1,000 years before the advent of European modernism.
Xavier Hufkens
Brussels-based gallery Xavier Hufkens is one of Europe's leading for contemporary art. Spanning painting, drawing, sculpture, photography, video and installations, the gallery is renowned for its eclectic works and for showing international artists such as Antony Gormley in Belgium for the first time. The gallery showed works from the likes of Sterling Ruby, Alice Neel, and talk-of-the-fair Tracey Emin (pictured).
Ingleby Gallery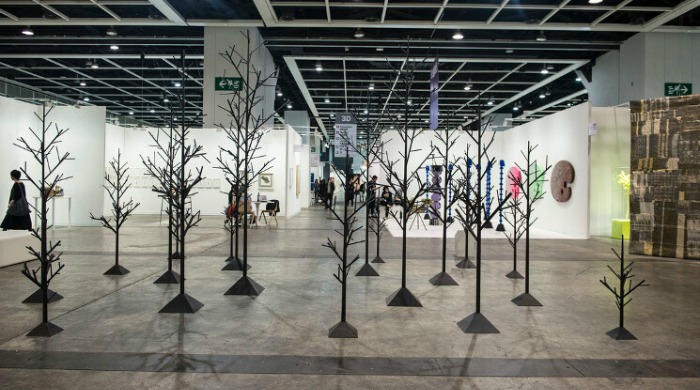 Edinburgh-based gallery Ingleby Gallery has been showcasing exhibitions and off-site projects by both established and emerging UK and international artists since 1998. At Art Basel Ingleby showed works by the likes of Charles Avery, Andrew Miller and Frank Walter, but our favourite was Peter Liversidge's installation of skeletal trees, pictured above.
neugerriemschneider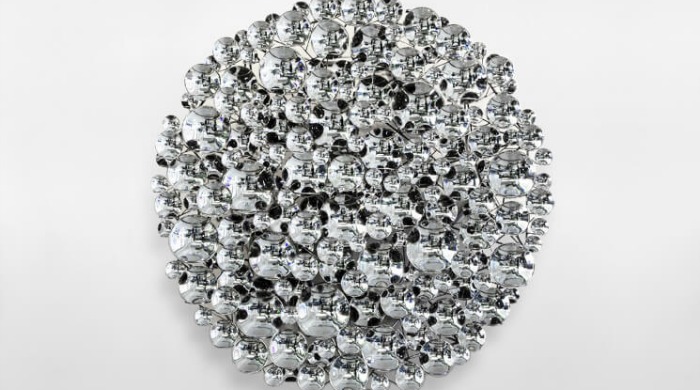 Berlin gallery neugerriemschneider is famous for its ambitious presentations, and its 2016 offering at Art Basel didn't disappoint. With work from Ai Weiwei, Tobias Rehberger and Jorge Pardo, neugerriemschneider was nothing if not innovative. Danish-Icelandic artist Olafur Eliasson's Your Plural Perspective (pictured) was a stand-out addition.
Hauser & Wirth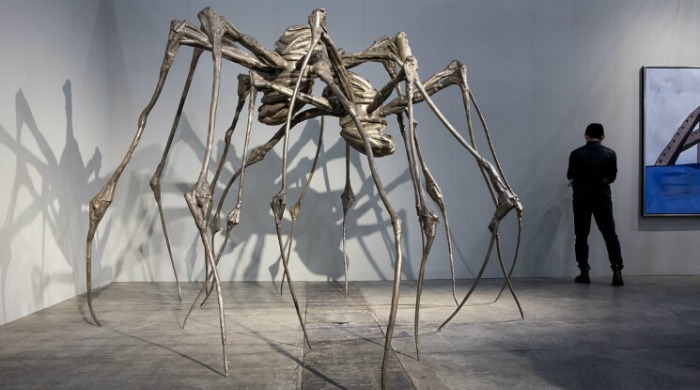 Founded in Switzerland, contemporary and modern art gallery Hauser & Wirth now has locations in Zurich, London, New York, Somerset and LA. For this year's Art Basel Hong Kong, the gallery had the spider at its core, showing works from Alexander Calder, Zhang Enli, Mark Bradford and more –  with Louise Bourgeois' Spider Couple sculpture (pictured) dominating the presentation.
Words by Angharad Jones. Images property of Art Basel.