Adored for its raw denim, grunge-esque accessories and utilitarian, cut-out baby tees, Diesel is the 90s brand that has made the ultimate comeback. With sustainability at the forefront, Belgium designer Glenn Marten has repositioned Diesel back at the forefront of the fashion world. Here's everything you need to know about the return of Diesel…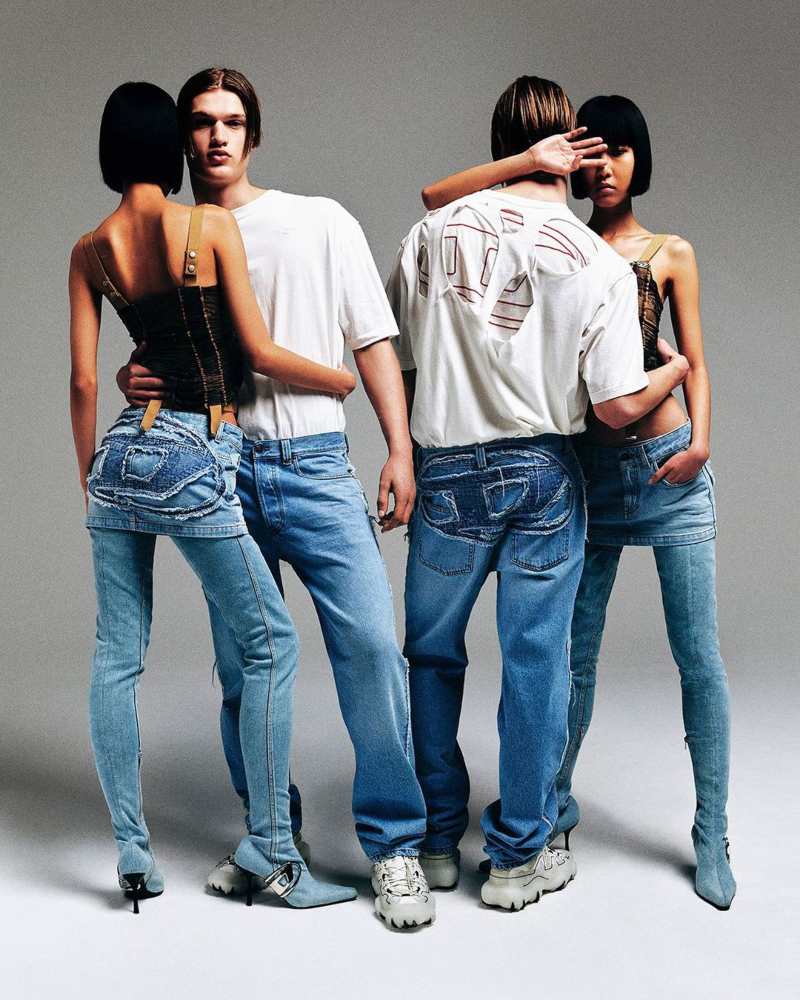 Diesel's Story
Founded in 1978 by Italian designer Renzo Rosso, Diesel was one of the biggest brands renowned for their distressed denim and provocative advertising. With outlets across the world, their style was a mix of European chic with American cool. It became a uniform for the 90s club scene, merging high fashion and high street. Midriff, side-poppered tops and baggy cut bootlegged jeans were deemed the 'cool' thing. 
The brand soared to success until the 2000s when stiff competition emerged on the high street, such as G-Starr and Abercrombie & Fitch. Although Diesel has remained one of the group's most successful brands, in comparison to Maison Margiela and Viktor&Rolf, in 2022 Diesels US brand filed for bankruptcy.
This was just before the appointment of Glenn Martens a Belgium designer who has catapulted the brand back to the mainstream. Highly sought-after the brand's diversity and sustainability has gained it the label as one of the defining fashion brands for 2022. Worn by the likes of Dua Lipa, Kylie Jenner and Julia Fox it's been hard to miss. 
Glenn Martens at Diesel 
Martens started his career at Jean Paul Gaultier, and since 2013 has led the creative direction of high-end streetwear brand Y/Project, best known for its deconstructed denim garments and revealing items like denim panties.
His collections for Diesel naturally have progressed with a mixture of fabrics and designs, recycled trimming and non-toxic chemicals, while bringing back the raw, provocative brands we once loved. 
There's an emotional factor with Diesel. It's a brand I grew up with. It was huge. Honestly, it was the sexiest thing in my teenage time. It was the very first brand I consciously bought. I was 16 or 17 and I was bartending, and I saved money to get some Diesel denim. – Glenn Martinn 
In his first year, Martens helped position Diesel within the alternative luxury segment. With several circularity initiatives through Diesel, including a Diesel jeans buyback program and Diesel Second Hand, a resale business available in Milan, Florence and Rome. The buyback program launched in July 2021, and by November it had collected and reconditioned 900 pairs of Diesel jeans washed and treated with Polygiene's anti-microbial and odor-resistant ViralOff and OdorCrunch technology.