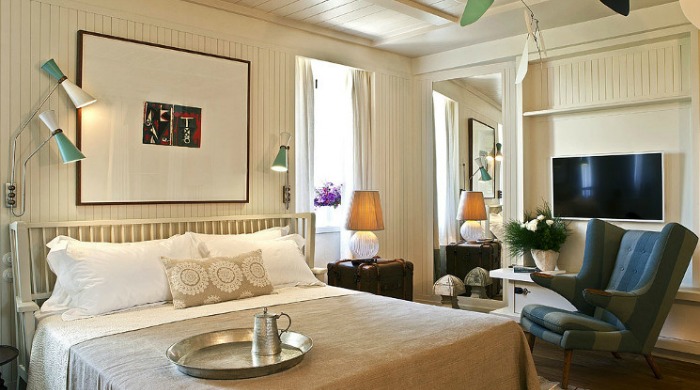 Alaçatı, on Turkey's west coast, is quietly gaining the reputation of being the discerning traveller's destination of choice. The tiny village is made up of stone houses adorned with bright blue shutters, slow-food restaurants pouring out onto the narrow cobbled streets, and a breath taking coastline that hosts some of the coolest beach clubs. Luxury boutiques, art galleries and chic hotels have been popping up in the area but the authentic charm remains, eschewing over-development for subtle style.
Alavya is a hotel that encapsulates Alaçatı perfectly. Made up of six carefully renovated traditional stone houses that sit around the existing magical gardens of white mulberry, olive and fruit trees, it features 25 unique rooms styled by renowned designer Hakan Ezer that are designed to complement the local area; think neutral colours, soft textiles, strong wood panelling, rich Turkish rugs, and the works of local artists covering the walls.
The attention to detail doesn't stop at the meze-style breakfasts, the hotel's bistro, Mitu, which serves up seasonal local dishes and fine wines, or outdoor bar and dining area, Foryu – nor does it stop at the rejuvenating luxury spa, or outdoor yoga and pilates classes. A luxury oasis that has both style and substance, Alavya is the perfect destination all year round.
For more information, visit the Alavya website.