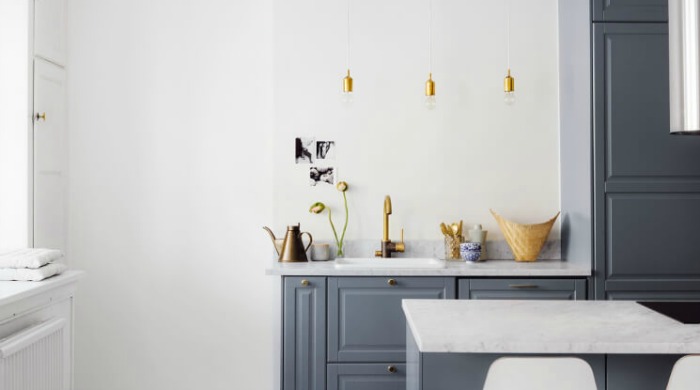 There's no denying that Scandinavian design is having a moment, and it's easy to see why. Since the recession hit at the latter end of the 2000s, there seems to have been a collective, conscious move towards – and emphasis upon – timelessness and quality rather than flashy, quick trends.
This is something we've seen in fashion with the rise and continual development of 'normcore', as well as more and more designers choosing to bring industry and slow, handcrafted fashion back in-house. It's also something that's become prevalent in food, with an emphasis now on farm-to-table, seasonal dishes and a sense of going back to basics and traditional flavours in modern cooking.
It's definitely something we're seeing more of with interior design too – and we're looking north for inspiration. Scandinavian design epitomises this ethos, choosing a pared-back aesthetic where luxury lies in solid design, subtle details and pure simplicity; an aesthetic that comes to life in this Stockholm apartment.
Grey and white make up the main parts of the colour palette, with fresh white walls running through the whole space, and different shades of grey found in the kitchen cabinets and large linen-covered sofa. This scheme is reversed in the bedroom, which features soft grey walls, white antique-style furniture and fresh white fabrics, with just a few select pieces of art and ornamental details.
Gold is used as an accent metallic throughout the apartment, found on pendant lighting, taps and cutlery in the kitchen, a hanging clothes rail and door pulls. Natural elements such as pale and distressed wood, marble counter and table tops and small additions of plants and flowers add a warm, homely touch to the apartment, breaking up the stark colour palette and preventing the space from looking over-styled.