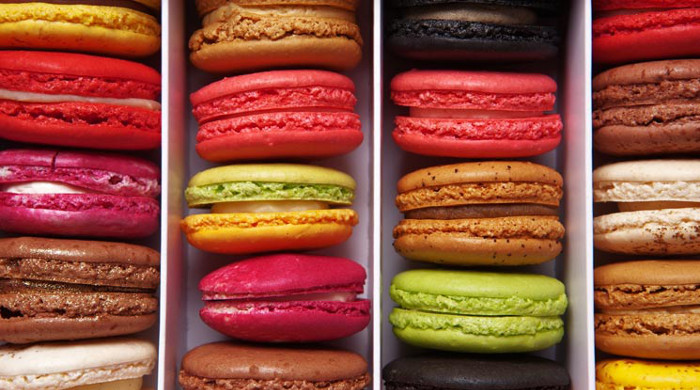 This tasty little pastry has had quite the resurgence of late, featured at all kind of fashion events and tearooms. However it can often be portrayed as a difficult project in the kitchen so here  at Coggles we'd like to share a recipe for the perfect little macaron, or four, or five. This recipe should make anywhere between 10 – 15, so eat your heart out!
Tip: It's a good idea to create a template for your macarons or to buy a specially designed macaron mat. These are plain macarons but if you want to create a lovely rainbow of treats, add the food colouring to the egg whites before whisking! Just be sure to use it sparingly. It's also a good idea to experiment with different fillings for different colours – raspberry/strawberry for pink, pistachio for green, vanilla for cream!
Ingredients:
-100g icing sugar
-100g ground almonds
-2 medium free range egg whites
-Small pinch salt
-55g caster sugar
(Food colouring – optional)
For the filling
150g unsalted softened butter
75g powder sugar
Other tools:
Piping bag with 1cm nozzle
Prep Time: 10 minutes
Standing time: 30 minutes
Cooking Time: 15 minutes
Total: 55 minutes
Prep
Preheat the oven to 160 C (140 C for a regular oven)
– Sieve the icing sugar and ground almonds into a large mixing bowl
-Carefully mix the two together
– In a separate bowl whisk the egg whites and salt together until they start to peak.
-Sieve in the caster sugar gradually, continuing to whisk until the egg whites thicken. You want to do this until they are really really thick mind you!
-Gently stir in the icing sugar and almonds so that it makes a paste
-Spoon into the piping bag. Pipe a little into your macaron tray or onto a baking tray lined with baking paper in the corners, this should stop it sliding around.
-Hold the bag vertically and pipe flat circles (approx 4cm) onto the lined tray. Keep twisting the bag as you go along to push down the mixture for ease.
-Ensure the circles don't have any tips from the piping bag – you can get rid of these by giving the tray a few slams on the table or wiping off with a butter knife.
-Leave to stand for 30 minutes so that they form a skin
-Use this time to make your filling, whipping the butter and sugar together. You can add other flavours here too if you'd like!
-After the 30 mins has passed, bake in the oven for 15 minutes with the door slightly ajar until they become firm.
-Let the macaroons cool and sandwich together with the filling.
They should be ready to eat from here, but if you want to get them extra firm and chewy – leave in the fridge overnight. Et Voila!