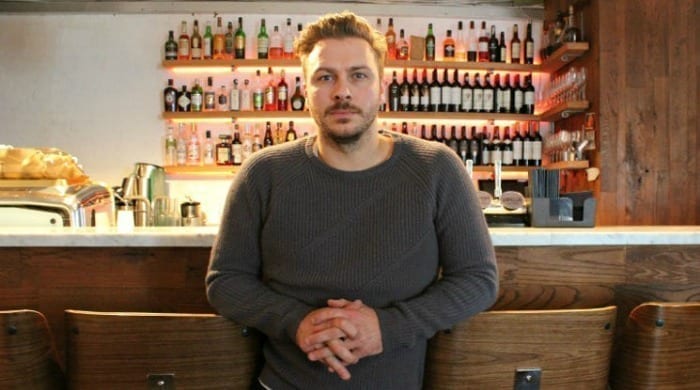 Andy Jones, owner of Jones & Sons. He wears the Axtell t-shirt and Arvid rib knit jumper from J. Lindeberg.
Down an unassuming side street in Dalston, Jones & Sons has become one of East London's greatest success stories. In just two short years, this restaurant has become an institution; a destination that people across the city make the pilgrimage to for their infamous bottomless brunches and Sunday lunches (which recently made number seven in the Evening Standard's top 25 Sunday lunches in London).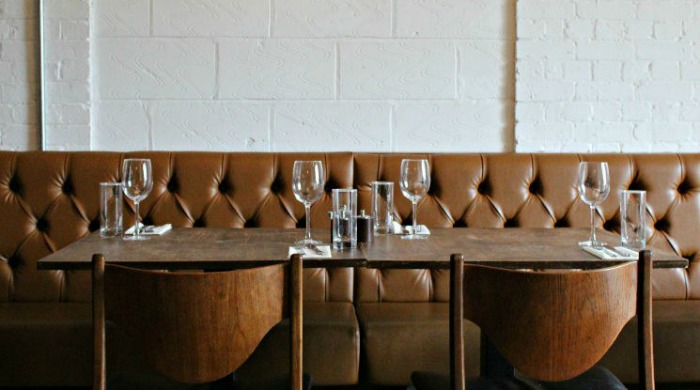 Housed in a former Victorian textile factory – and later, theatre – the building was taken over by Cell Project Space in 2011, turning it into artists' studios. In 2013, Andy Jones took over the empty theatre space and turned it into what is now Jones & Sons. It may seem like an odd place to set up a new restaurant in a city where competition is fierce, but Dalston has that edge that Shoreditch has now lost. Plus, the building that plays host to what Jones calls "future Turner prize-winning artists" is the perfect fit for somewhere that prides itself on its independence and food of consistently high quality.
Inside, the restaurant is understated, clean and minimal; walls are stark white, industrial accents are seen in the pendant lighting and steel beams and the wooden furniture (some of which comes from Jones' parents' old hotel in Llandudno) is slightly mismatched – but it works, and is fitting for East London's traditionally industrial district.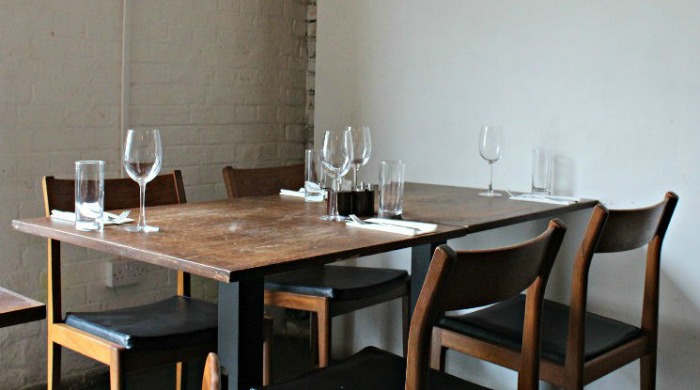 It takes some guts to open a restaurant in a city where new eateries are opening up every day and its residents move from one food trend to the other, but it's a risk that Jones took, and one that has certainly paid off. Having grown up in hospitality, he landed in London from North Wales in 2004, becoming manager of Broadway Market's Cat & Mutton in 2006; the place that became the only place to be in the city on a Sunday night, Morrissey would turn up, and soda guns would come out – Coyote Ugly-style – to get people down from dancing on the tables.
The past few years have seen East London get younger and younger, though (possibly because it's the one place in the city that is mildly affordable), and Jones saw a gap in the market for those in Hackney over the age of 27 "who wanted really good food that's affordable, could linger around a table at lunch time and not have to go to a pub for a Sunday lunch".
In came Jones & Sons (the 'son' being Jones' four-year-old son Jesse), which like most newly-opened restaurants, had a bit of rocky patch at the beginning: "I made a lot of mistakes when I built this place," admits Jones. "I'm not a chef so I made the bar way too big and the kitchen way too small. And it's really come back to bite us in the arse. We could have fit more people in if the bar was smaller."
The first head chef only lasted two months too, finding issue with the fact that his boss was ten years younger and who "did a few bad services" – something that wasn't an option for a restaurant trying to establish itself. In August 2013, hope arrived at Jones & Sons – literally, in the form of now-head-chef Kieran Hope – who cooked his signature dish (a simple yet unbelievably delicious sea bream with alliums) and the rest, as they say, is history.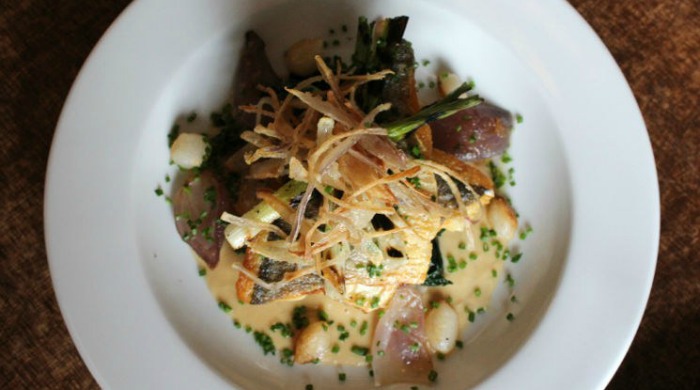 The turning point though, says Jones, came in November of the same year when the Huffington Post came in by chance and ended up naming the restaurant as having one of the top 10 Sunday lunches in London. Since then, Jones & Sons has grown to a place where the phone doesn't stop ringing and they're serving 160 each Sunday for lunch (the restaurant seats 60).
Their reputation for food grew and soon they were being asked to cater for photo shoots. The first one was a bit of a learning curve; "We didn't know what to take them", says Jones. "At the time we had a lobster and blood orange salad. I didn't ask what their budget was so we took them the lobster salad and rare roast beef. We turned up and they were kind of like 'we were expecting chicken and stew'. But that's not the sort of food we do."
The outside catering side to the business has since snowballed, with a dedicated team now doing the catering for shoots, weddings or events almost every day – a side that Jones is keen to expand next year.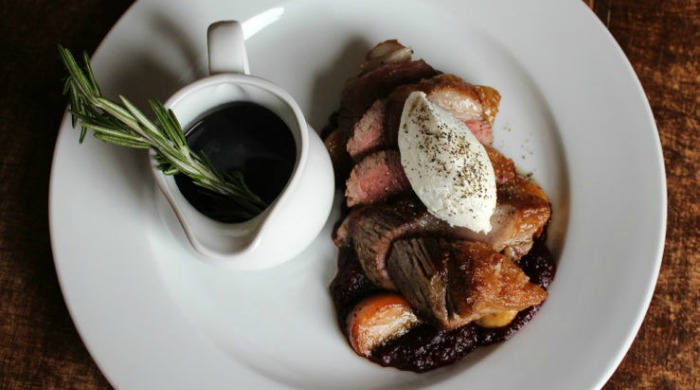 Behind this success, undoubtedly, is the food, and a quality, attention to detail and accessibility that can only be found in a passionate independent. London is a place that loves its flash-in-the-pan food trends; burgers, cronuts, cereal cafés – the list goes on – but Jones took a different route. "Food trends come and go – always have done, always will do. The biggest queue you will probably ever see is outside a beans on toast café. That's not how I work. We're not reinventing the wheel, we're just making it our own – no fads."
It's a refreshing approach, and one that works. The seasonal menu is classically British but it's also contemporary, and the details make it spectacular – "We just up the ante," says Jones. "Why soak a pear in wine when you can soak it in port? Get rid of the truffle oil; grate it on the polenta at the table for that theatre", and investing in a chargrill that produces steak so soft "you can cut through it with a normal knife".
Jones takes the same approach to fashion and style, eschewing trends for quality day-to-day pieces – J. Lindeberg being his go-to brand for "great jeans, t-shirts, shirts, jumpers and big coats. I link [J. Lindeberg] to what I'm doing at the restaurant; it's very classic but not outdated, with its colours, style and mood very much with the times. It's traditional but up to speed with the modern world – like our restaurant. A lot of clothing fads come and go – like food – and classic contemporary is hard to do, but J. Lindeberg does it."
Andy Jones – and team – do it too.
Jones & Sons can be found at 23-27 Arcola Street, London, E8 2DJ. Visit the website here.
Words and images by Angharad Jones.