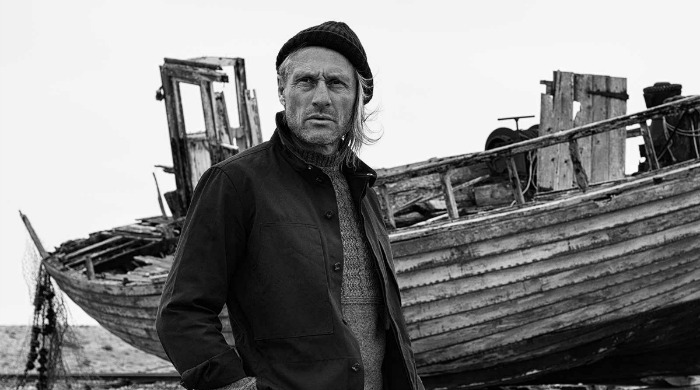 Private White V.C. is no ordinary brand. Designed and handcrafted from regionally sourced materials in Manchester, Private White V.C. takes inspiration from its namesake – a WWI hero – creating contemporary menswear with a subtle military influence. The brand's designer and creative director is Nick Ashley, a man with an impressive bank of experience in the industry (having worked for the likes of Kenzo and Tod's of Italy in the past), and whose mother happens to be one of Britain's most famous fashion and interior designers – Laura Ashley. We sat down with Nick to find out more about Private White V.C., his design influences and how his mother shaped what he does today.
Shop Private White V.C. on Coggles >>
Question:

How would you describe Private White V.C.?

Answer:

Private White V.C. is a team of people dedicated to doing things the right way. The world of fashion has got carried away with disposable clothes that are produced without much emphasis on welfare or impact on the environment. We are not perfect yet, but we are already ticking quite a lot of the boxes that should correct the situation.

Our route is expensive at every level: investment, staffing, raw materials. This by necessity has pushed us into the luxury market; we have no choice in the matter, unless we went for fully automated machinery, but then we would not be creating jobs. So we have settled on a 'high touch' product (made by people with individual machines) made as much as possible in the UK – although this is difficult because certain suppliers i.e. zips no longer exist, with control from the fibre production straight through to the customer, hence our strap line 'From sheep to shop' – nobody else is currently doing this in the UK. We are fully transparent, we invite anyone to come and see our factory, our mills and our sheep. By the way, the sheep are on my farm in Wales – who would have thought, Wales: fire starter!

Question:

There's a rich history behind the brand – can you tell us a bit about it?

Answer:

The factory has been making outerwear for 100 years. Four years ago we started making for our own brand. The factory is now producing 90% of production for its own label.

Question:

Where does inspiration for the collections come from?

Answer:

The inspiration comes from the customer. I am a people watcher, I watch the way people are evolving and design products that are relevant to today's needs.

Question:

Who would you like to see wearing Private White?

Answer:

I would choose Thomas Heatherwick as my ultimate customer. In order to qualify as a customer he would have to actually purchase the clothes himself; we could not cheat and bung him some freebies…I shall send him a package tomorrow.

Question:

You have a famous heritage – how has your mother's work influenced you?

Answer:

My mother taught me to look behind before going forwards. She was a revivalist; at a time when everyone was obsessed with modern (the 60s), she revived a whole load of Victoriana and did exactly what she felt like doing. No one copied her because they weren't her, it was brilliant.

Question:

What has been the highlight of your career so far?

Answer:

The highlight of my career was today. I have been working really hard to put together our first female collection; it has taken every scrap of my knowledge, and both my daughters have been drained of input, but the result is simply stunning. I am so proud.

Question:

What can we expect to see next from Private White?

Answer:

The next stage for Private White is secret. We are getting to the stage where others are beginning to copy us – this is a good sign, it means that we are getting right, but I am not going to tell you what you can expect to see next. What do you take me for, a rookie?
Words by Angharad Jones. Image courtesy of Private White V.C.