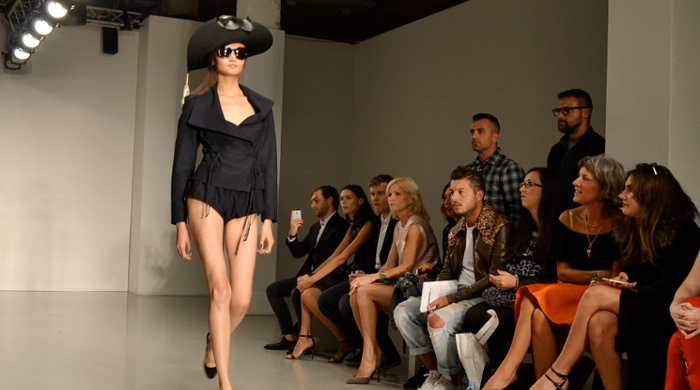 The Vivienne Westwood Red Label show is always a highlight of the London Fashion Week calendar, from the first glimpse of the new collection to the political statement that inevitably accompanies it.
The SS 15 Vivienne Westwood Red Label show has been somewhat taken over in the press by Vivienne Westwood's decision to use the show as a declaration of her support for Scottish Independence. Proudly displaying 'Yes' badges on each of the models as they waked down the catwalk and sharing her thoughts in a press release on each seat at the show, it's clear to see that Vivienne Westwood is in full support of Scotland breaking away from the United Kingdom. But it's not just about Scotland, her support of the 'Yes' vote sees the separation as a step forward to democracy for all, breaking away from British government ideals and fighting for our rights in a non capitalist Britain.
The Vivienne Westwood Red Label collection itself was an explosion of colour, print, draped fabric and a veritable dress up box of looks for the modern woman. Expressing that every woman can be exactly who they want to be, whether that is a pirate or high powered business executive, the looks within the show represented different characters and themes.
Iconic Vivienne Westwood tailoring, oversized lapels, shoulder pads and draping were present within the show. But paired with shorts, cropped trousers and wide legged trousers, these were given an update for SS 15. Not to mention the pirate hats of course for a splash of classic Viv./p>
Flowing fabrics in tiered dresses were given a hard edge with thick straps traversing the chest. Loose fabric two piece suits with gathered fabrics reminiscent of a stowaway on a pirate ship harked back to her previous collections and iconic designs.
The colour palette was decidedly Spring like with cream, apricot, red, blue and grey throughout but with a hint of retro tones coming through in the brown, rust and mustard pieces.
Evening and formal wear closed the show with stunning, floor length gowns in explosive, painterly floral prints, structured silk crepe draping and festoons of apricot folds mesmerised the audience.
It's a 'Yes' vote from Coggles for the Vivenne Westwood Spring Summer collection.