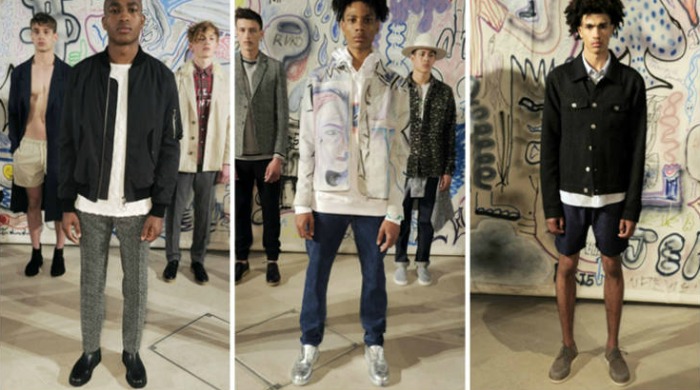 Soulland's Iron Wheel Club collection for SS16 is an ode to social interests and norms that differ from the mainstream society. Rooted in distinctive African-American stories and the shift from rebels to generally accepted citizens, the collection merges different styles and fabrics, all converging in freedom, rebellion and cultural innovation.
Torn denim jackets with backstitching and heavy leather pieces express an element of liberalism. Checked shirts with slogans written across them gave a subtle anarchic element to the collection, whilst updating a menswear classic into something more provoking.
Tailoring was given a looser edge in striped beige linens and relaxed silhouettes. The effect combined the aesthetics of middle-aged white men and African-American rappers, creating a fresh new sartorial image.
The presentation, and part of the collection, was designed in collaboration with American artist Charlie Roberts, whose work is known for its pop-cultural elements twisted with hip-hop inspired objects and symbols. Roberts' original artwork was reinvented into a wearable form, with his sketches used in a jacquard woven specially developed material.
Cultural references were mixed, diverse, and the resulting image for Soulland was one of refined rebellion and a new age of freedom.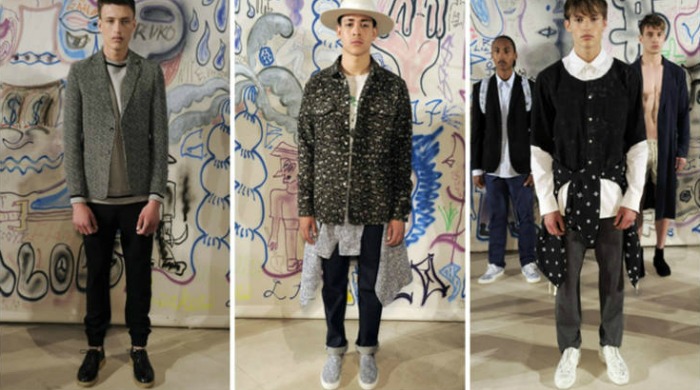 Words by Sophie Milner. Images courtesy of Catwalking.com.