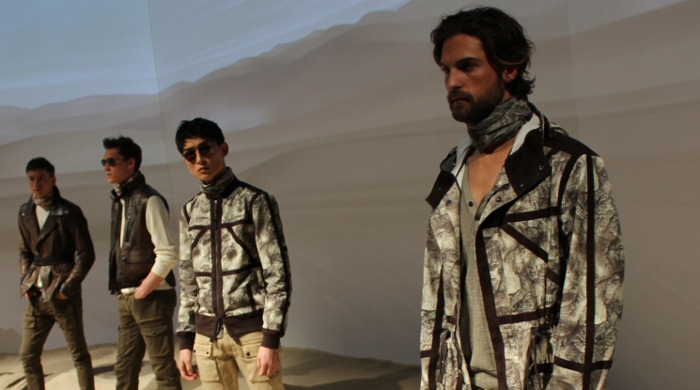 Old Billingsgate on the Thames was transformed into a Saharan-desert adventure, setting the scene for what was to come from the Belstaff SS16 collection. Berber rugs, old Land Rovers that looked like they'd made more than a few trips, and big canvas tents made up the entryway, while Moroccan mint tea and Casablanca beer served as refreshments.
Inside, models stood in a makeshift desert – sand and Atlas-mountain backdrop included. Moving on from its traditional motorbike wear, this season Belstaff was all about dressing the desert explorer, paying homage to its history as a supplier to the British forces. Of course, those impeccable leather jackets were still present – this time updated in dark browns and tan, and adorned in zips and pockets. Slim cargo trousers covered in pockets made up the bottom half, while desert boots (of course) were the shoe of choice.
The colour palette was a neutral one, full of whites, beige, browns and khaki, with a contemporary camouflage print thrown in. as for the accessories, printed scarves were tied roughly around the neck and big canvas backpacks in contrasting colours were there to look good and serve a purpose; if we've learnt anything this LC:M, it's that man bags are back in a big way for SS16.