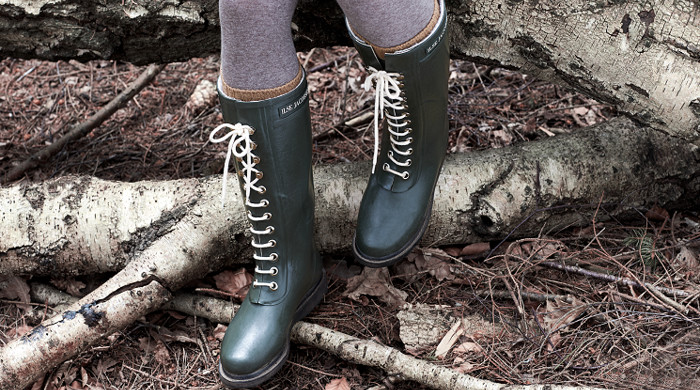 Danish label Ilse Jacobsen was founded in 1993 upon a design philosophy that combines Scandinavian simplicity and utility. To this day the label maintains an emphasis on natural beauty and natural materials that evoke images of the label's beautiful Danish beachside home.
We spoke to Ilse Jacobsen to discuss the new collection, what she is looking forward to in the new season and advice for budding designers.
Question:

Please tell us about the collection and the inspiration behind it

Answer:

The inspiration behind the ILSE JACOBSEN HORNBÆK Autumn / Winter 2014 collection originates from nature. The range is infused with elements, textures, colours, silhouettes and prints inspired by nature – creating a collection with a natural but wild approach to feminine chic. Since I founded the company in 1993, the design philosophy has been based on Scandinavian simplicity. I think you can call it Nordic natural simplicity which is a recurring motif for my autumn/winter collection too.

Question:

What trend are you most excited to wear this A/W?

Answer:

I think the seasonal trend of playful and tactile design and materials is very interesting. Especially materials with structure and coatings – these are predominant in my collection.

Question:

What is your favourite piece from this season's collection?

Answer:

It is always hard to choose but I love all the animal printed pieces in this season collection. From rain boots to rain jackets, in dresses, slim fit pants, boots, jackets and also in bags you find the animal prints. One of my personal favorite styles, which I use almost every day during autumn and winter time, is my classic handmade rain boots with the lace up front – but for the younger audience the Chelsea rain boot is an absolute must have.

Question:

How did you get into designing?

Answer:

It all began to take shape after having worked for another shoe brand for a few years. During these years I had a lot of ideas which I started to believe in, so rather than selling other brands I wanted to sell my own designs. I bought a shop in Hornbæk and launched my own shoe collection with only 10 styles. Being an entrepreneur in all aspects, I pride myself in generating at least one new idea each day. So far, this creative energy has resulted in a full biannual rainwear collection, 4 annual clothing and 2 shoe collections, 23 concept stores, 11 consignments, 4 outlets, 3 flower shops, my spa, and my spa and beauty line.

Question:

Do you have any advice for young designers looking to get into the industry?

Answer:

Believe in your initial idea and think it thoroughly through. It is very important to be strategic but you will never succeed if you do not believe in your own idea. Also it is important to believe in your own ability to succeed. I always say ; "If you can fly to the moon and back, everything is possible. It is just a matter of how creative you are.

Question:

Who is your style icon?

Answer:

I do not find inspiration in just one person, however I do truly admire Her Royal Highness the Danish Crown Princess Mary. She is very elegant, stylish and a very committed and admirable person and I would love to design something for her.

Business wise I admire Ralph Lauren – his ability to stay true to his brand, and his sense of style is outstanding. I love the way Ralph Laurens brand identity is so stringently upheld throughout all of his collections, boutiques and advertising. I feel the same way about Louis Vuitton – their collections and campaigns are stunning.

Question:

What can we expect to see from you in the future?

Answer:

For the coming season the collection is infused with elements from traditional Nordic design mixed with and complimented by an ethnic summer look – my coming summer collection is both chic and relaxed, low key yet sensuous. I use Nordic colours complimented with zoomed-in and blurred prints. This season I have included snake and marble prints. Also, new rain boots with marble printed soles and a line of crispy multifunctional lightweight rain jackets and coats are among my summer essentials for next season and will be available in the stores soon.

Question:

Answer:
Image property of Ilse Jacobsen. Interview by Clare Potts.