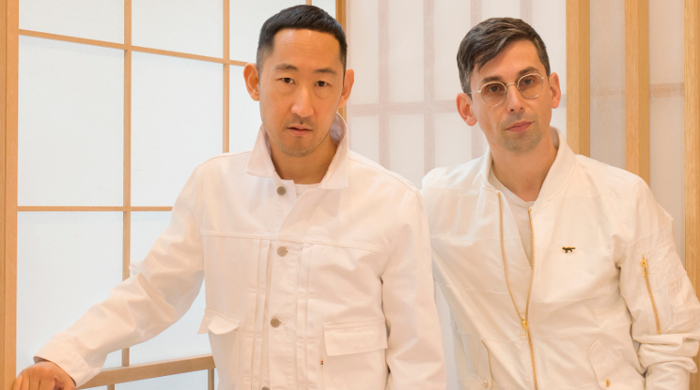 French brand Maison Kitsuné dates back to 2005, offering a cool take on French prep for men and women. Founded by Gildas Loaëc and Masaya Kuroki (former Daft Punk manager and architect respectively), the fashion line sits alongside Kitsuné – the duo's music label – and Café Kitsuné – the must-visit coffee shops in Paris and Tokyo. We sat down with Loaëc and Kuroki to find out how their music and fashion line work together, their inspiration and their favourite new musicians.
Question:

Tell us about Maison Kitsuné

Answer:

Maison Kitsuné, our clothing line, is chic and casual with the well-known effortless French touch. Kitsuné, our music label, is all about making and releasing catchy songs and working with talented artists. Café Kitsuné, our coffee spots, offer the best latte in town! Maison Kitsuné is all about quality, passion and authenticity. It's the result of what we love: our brand reflects our lifestyle and vice versa.

Question:

Neither of you come from a fashion background – how did Maison Kitsuné come about, and how was the transition into the industry?

Answer:

We decided to start Kitsuné while we were in Japan with Daft Punk for a production movie called Interstella 5555. The early Japanese concept stores that we discovered during our trip to Tokyo inspired us to create a clothing brand as well as a proper music label and to put those two activities under one roof; one brand experience. We love the idea of a lifestyle brand, and we achieve this through different mediums: Kitsuné the music label, Maison Kitsuné the clothing brand, and now Café Kitsuné, our cafés in Paris and Tokyo.

We knew how to operate a music label as I [Loaëc] was already working in the music business. For the clothes, it was very new for us since neither of us come from a fashion background. We had to think about our market position, define a strong brand positioning in the fashion market and look for the good partners to work with, as we take special care in selecting the quality of the fabrics and the tailoring of the garments. We both run the company as creative directors and we have an in-house creative studio that works on the clothing line designs.

Question:

What – or who – inspires your designs?

Answer:

Travels, movies, exhibitions, our everyday life…

For the upcoming Maison Kitsuné AW16 collections, we draw our inspiration from the animated movie The Wind Rises by Hayao Miyazaki.

Question:

How would you describe the Maison Kitsuné SS16 collection?

Answer:

The Maison Kitsuné SS16 Paris Désert collection is filled with romance, lightness and optimism. It presents a laid-back vibe while maintaining the effortless chic that defines the Maison Kitsuné man and woman.

Question:

Music plays a big role in your brand – how do you combine fashion and music, and how do the two influence each other?

Answer:

The music label is not a marketing excuse or the accessory of the clothing line. Kitsuné is a proper music label: we are signing acts and actively promoting them. What makes the Kitsuné label so unique is its dedication to developing acts from A to Z. We can offer a full range of opportunities to our artists with a maximum of flexibility: publishing, tour, EPs, compilations and albums releases. We are also developing Kitsuné on YouTube, Spotify, Deezer and Radio and offer people the chance to listen to our latest EPs, compilations or albums releases. At Kitsuné our main goal is to discover great tracks and songs from upcoming artists who will matter most tomorrow.

Of course, music has an aura, which surely benefits to the clothing line, in terms of effect and recognition.

Question:

Which musicians are you most excited about right now?

Answer:

Parcels – our latest signing, the grooviest band around. [Listen to the band here]

Question:

What has been the highlight of Maison Kitsuné so far?

Answer:

Kitsuné Hot Stream, our online music label, available on all streaming platforms, with new super nice music every week!

We also launched our very first Maison Kitsuné shoe line in May, from loafers to boots for men and women: classic and chic!

Question:

What can we expect to see next?

Answer:

More Maison Kitsuné boutiques and Café Kitsuné spots around the world for sure, and also great upcoming albums on the music side.
Interview by Angharad Jones. Images courtesy of Maison Kitsuné