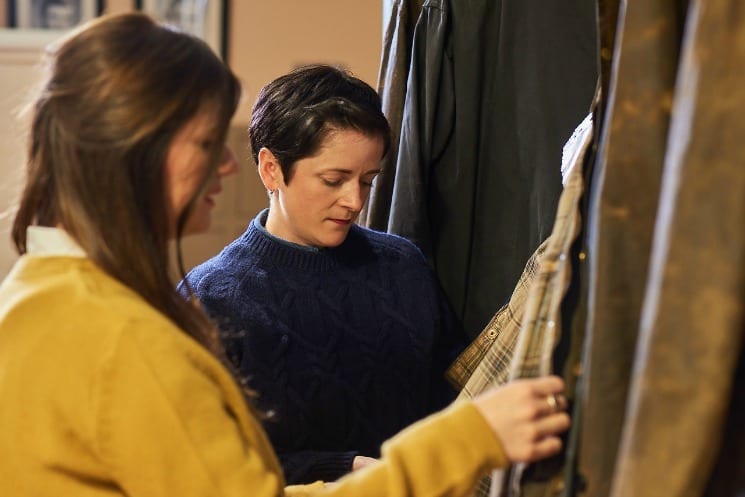 Barbour is one of those great heritage brands that has truly stood the test of time. Since its humble beginnings in South Shields at the latter end of the 19th century, Barbour has grown to become a British institution; a brand that has been adopted in different ways by each generation – yet continues to stay true to its roots, not deviating too far from its classic and distinctive designs. Barbour's new womenswear collection, Timeless Originals, celebrates the brand's rich history and everything it stands – and is famous – for. We caught up with Sylvie Hunter and Alex Walker who work on the Design team at Barbour and created this collection, to find out more.
Shop the Barbour women's collection on Coggles >>
Shop the Barbour men's collection on Coggles >>
Question:

What can you tell us about the Timeless Originals collection?

Answer:

Sylvie: Our latest women's heritage collection goes back to the very heart of the brand, updating some of our most iconic wax jacket styles with two key seasonal ranges : the 'Rain Drop' and the 'Snow Drop'.

Question:

What was the inspiration behind it?

Answer:

Alex: Our infamous British weather! Arriving just in time for the inclement Autumn weather, the aptly named 'Rain Drop' capsule of Barbour's new AW16 Women's Heritage collection offers exciting updates to our most famous rain-repellent hero: the wax jacket.  Following on from this, the 'Snow Drop' offers chunky knits and baffle quilts for when the winter months set in.

Question:

Barbour has a rich history – did this play a part in your designs?

Answer:

Sylvie: Timeless Originals is a collection that takes some of our most interesting jacket styles that we've created in our 122 years as a brand and updates them for the modern woman with contemporary detailing. Expect some of our most classic styles in A-Line silhouettes, with modern essentials such as knitwear and trousers to complete a very minimalist, timeless look.

Question:

Barbour is also a brand that has stayed true to its North East roots – has this influenced the Timeless Originals collection in any way?

Answer:

Alex: Our head office is still based up in the North East so it very much inspires us every day – from the stormy coastline that prompted our very beginnings as a brand to the rich archive that we have at our fingertips next to our studio.

Question:

Do you have a favourite piece from the collection?

Answer:

Alex: My favourite piece has to be the Barbour Autumn Crew Neck – it's a really fun piece.

Sylvie: My favourite piece is the Barbour Border Quilted Jacket. I love the modern longer length coupled with the classic feel of the style. It's a very clean, uncomplicated jacket that can be dressed up or down.

Question:

What does British style mean to you?

Answer:

Alex: I think practicality is something that really shines through in British style. One of our muses for the collection, Alexa Chung, is someone who really understands this – she always seems to wear the right thing for the occasion, whether that's wearing her Barbour at a festival or on a rainy day in New York City, she's perfectly on point.

Question:

What can we expect to see next from Barbour?

Answer:

Sylvie: Press and bloggers have fallen in love with the Timeless Originals collection – it seems to have really caught their imagination so we're excited about moving it forward for next season.
Interview by Angharad Jones. Images courtesy of Barbour