There's no question about it Copenhagen Fashion Week is undoubtedly the most influential, for sustainability, innovation and let's not forget street style! But as we reflect on this week's collections, the thing we are talking about the most is the joy, the joyous dressing and the vibrancy of the Danish capital. 
As the sun beamed down on one of Europe's coolest cities, CPHFW kicked off with its first full physical schedule. With a buzz in the city, favourite brands Ganni, Stine Goya and more showcased their bright and beautiful SS23 collections. Here's what you need to know… 
#1 Skall Studio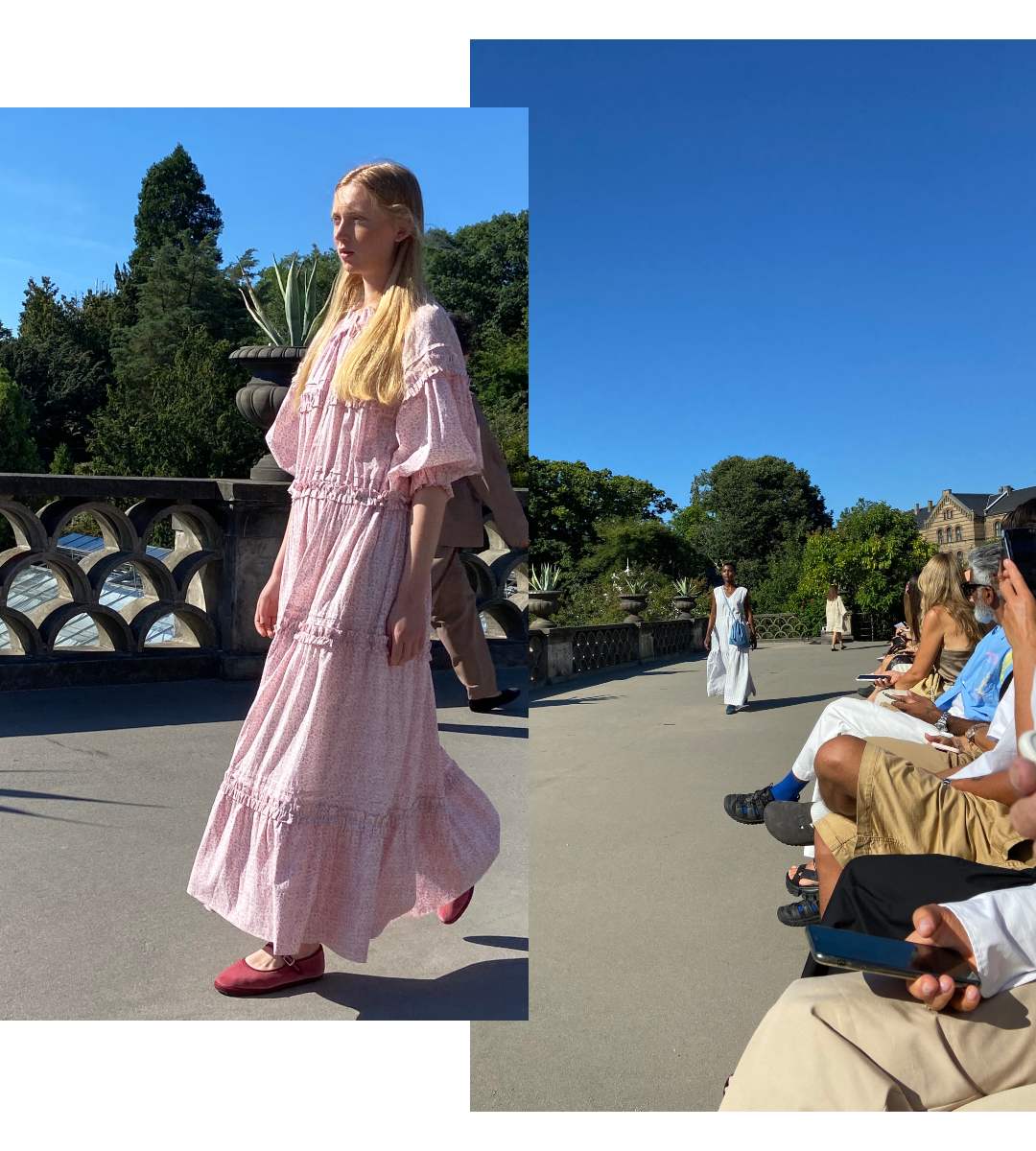 Starting at the Botanical gardens for Skall Studio SS23, the collection was about returning to founders, Julie and Marie's roots. Their love for nature and sustainability has always been prominent throughout but this collection was specifically inspired by the former Indian princess of Jaipur Maharani Gayatri Devi. 
With her Indian yet western and feminine yet masculine style, we feel she represents the Skall Studio DNA in the most beautiful way.
Typically the Skall collections are muted with natural and earthy tones but this season saw the introduction of the colour pink. The Pink City in Jaipur, inspired by the buildings, was featured on floaty dresses and draped over shirt and skirt combinations. 
#2 Holzweiler 
Sitting in a grand hall, with hot air balloons suspended from the ceiling, Holzweiler's collection was raw, utilitarian and poetic all in one. Inspired by parachutes, feather-light fabrics and aerodynamic movement, the collection was made up of lean silhouettes wrapped and twisted in materials finished off with cords, buckles and hardware.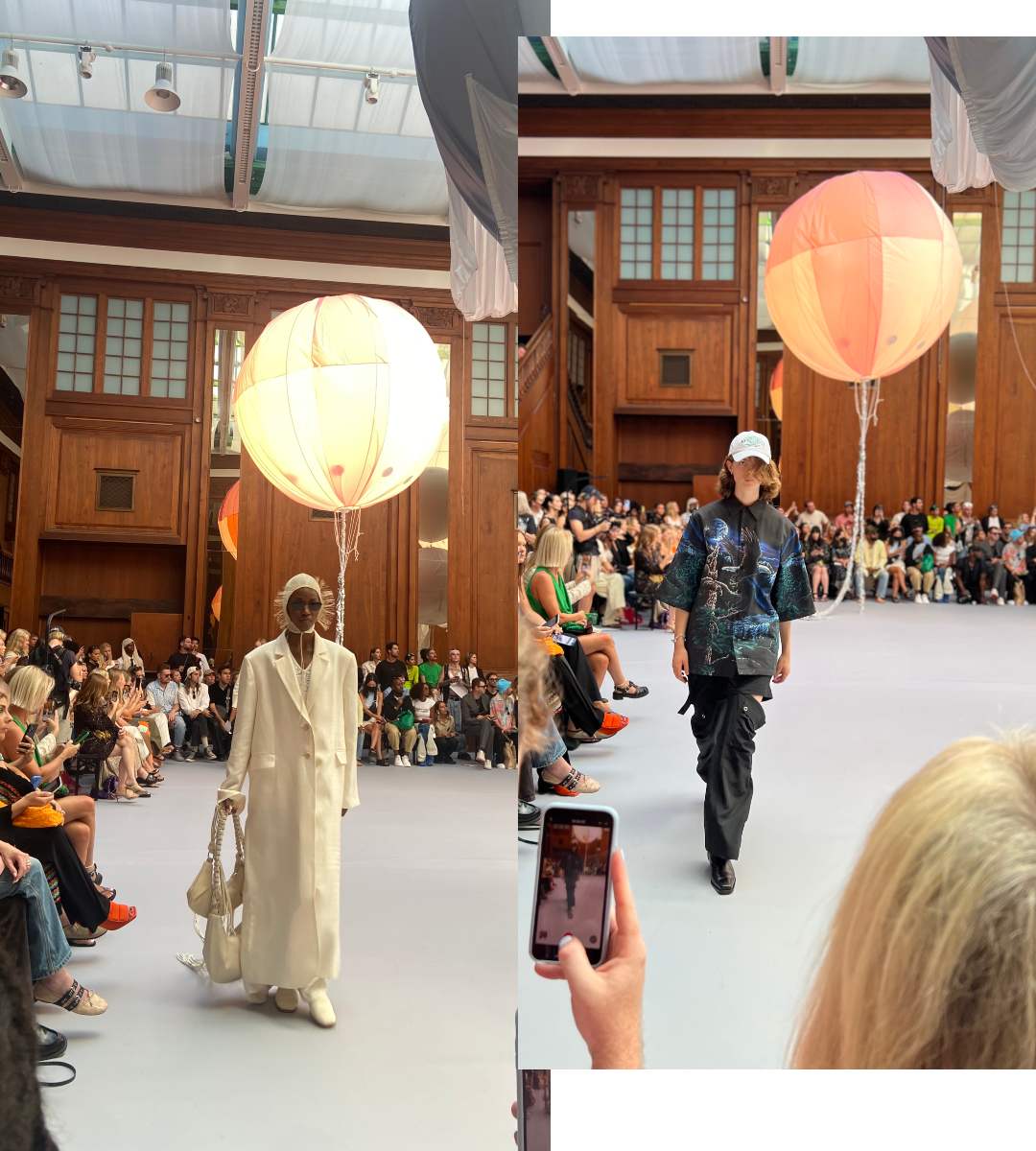 We wanted to make a collection where movement was the main inspiration behind the garments, technical fabrics, loose straps and prints with motion blur.
With a muted colour palette the collection included pilot jackets, crisp trench coats, crochet and plenty of tassels, transcending you into the calm and effortless world of Holzweiler.  
#3 Stine Goya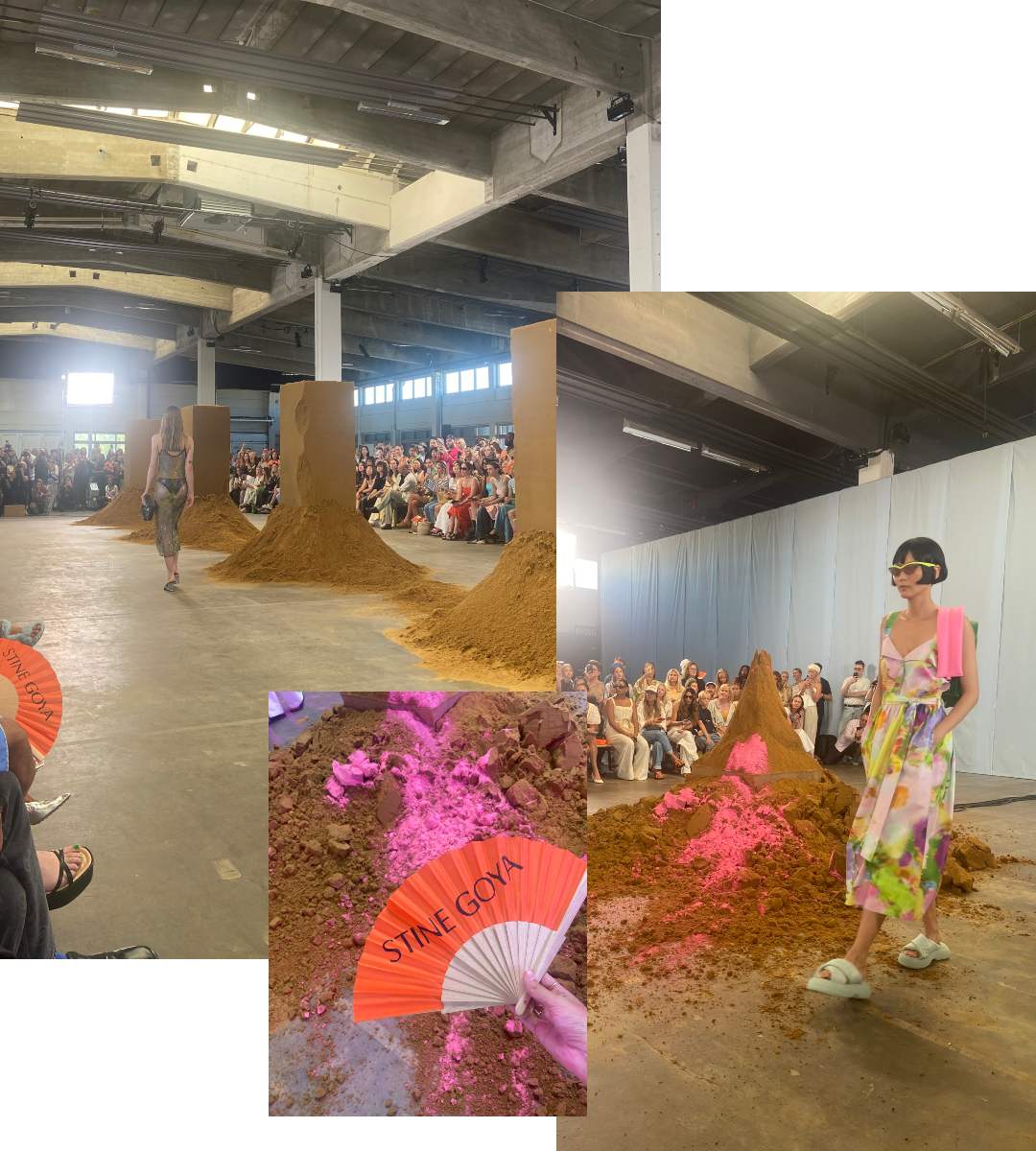 From the offset, the feeling was free and empowering, inspired by the early 90's riot girls and the way they dressed and behaved. Done with Stine Goya's bold colours, clashing prints, sheer glitters and iconic leopard print the show boosted ultimate confidence and courage to go against the status quo. 
 More than ever we feel like it's important to feel empowered, especially being a woman.
Located in an industrial warehouse with splashes of neon and orange fans throughout the audience. The models walked around pristine dirt pillars that crumbled into piles of pink rubble, adding to the explosive energy. 
#4 Baum und Pferdgarten 
The collection named 'A Timeless Women' was inspired by the concept of time. How you spend your time and how you take time out were presented in a powerful collection. Situated on a sunny street, the pink striped catwalk reflected Copenhagen's personality.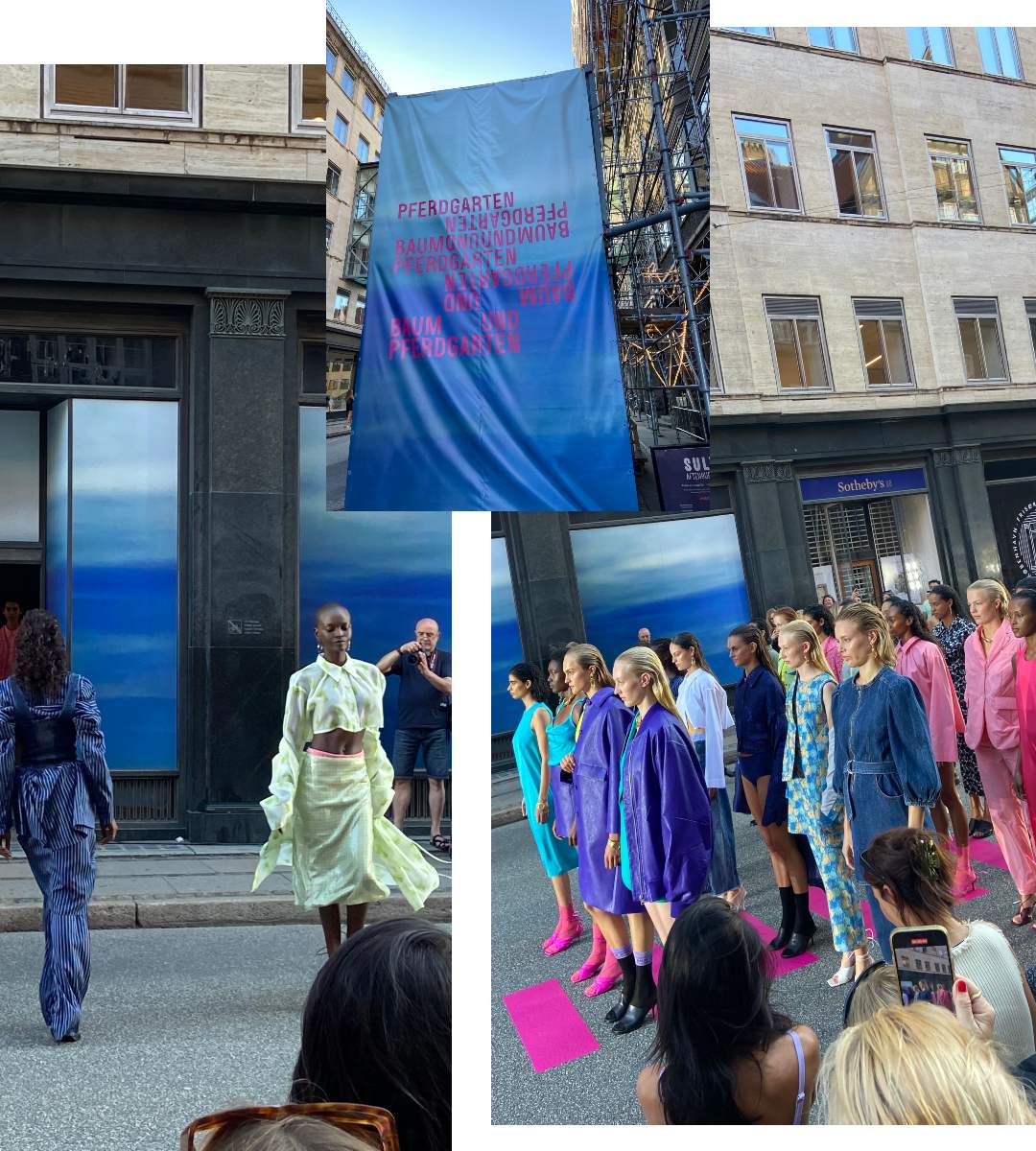 This season we thought of, what Charlotte Gainbourg would wear if she was a Gen Z kid. It would be timeless pieces but way more bold.
Delving deep into the concept of time Baum und Pferdgarten explored shapes inspired by an archive of previous fashion eras. Including a 90's inspired denim corset to a 1940s box jacket in minty brocade. The collection injected a modern interpretation with shining azure blue paired with deep purple, pink suits and head-to-toe leopard print looks. 
#5 Wood Wood 
Set on Lille Langebro, an architectural sight and pedestrian bridge, Wood Wood presented its SS23 collection, ESCAPE TO PARADISE. Inspired by the serenity you feel when around water, Wood Wood expanded on its heritage workwear with distressed, bleached and layered structures. 
Streetwear is culture – and people drive culture.
The collection, symbolic as they walked in the early evening dusk, was designed to take you from day to night with standout orange, bold graphics and a new take on Hampton's camo print.  
#6 Ganni
As Ganni's first physical show back, there was excitement in the air and it's safe to say it did not disappoint. The collection named Joyride paid homage to the founder, Ditte Reffstrup's hometown Copenhagen in summer.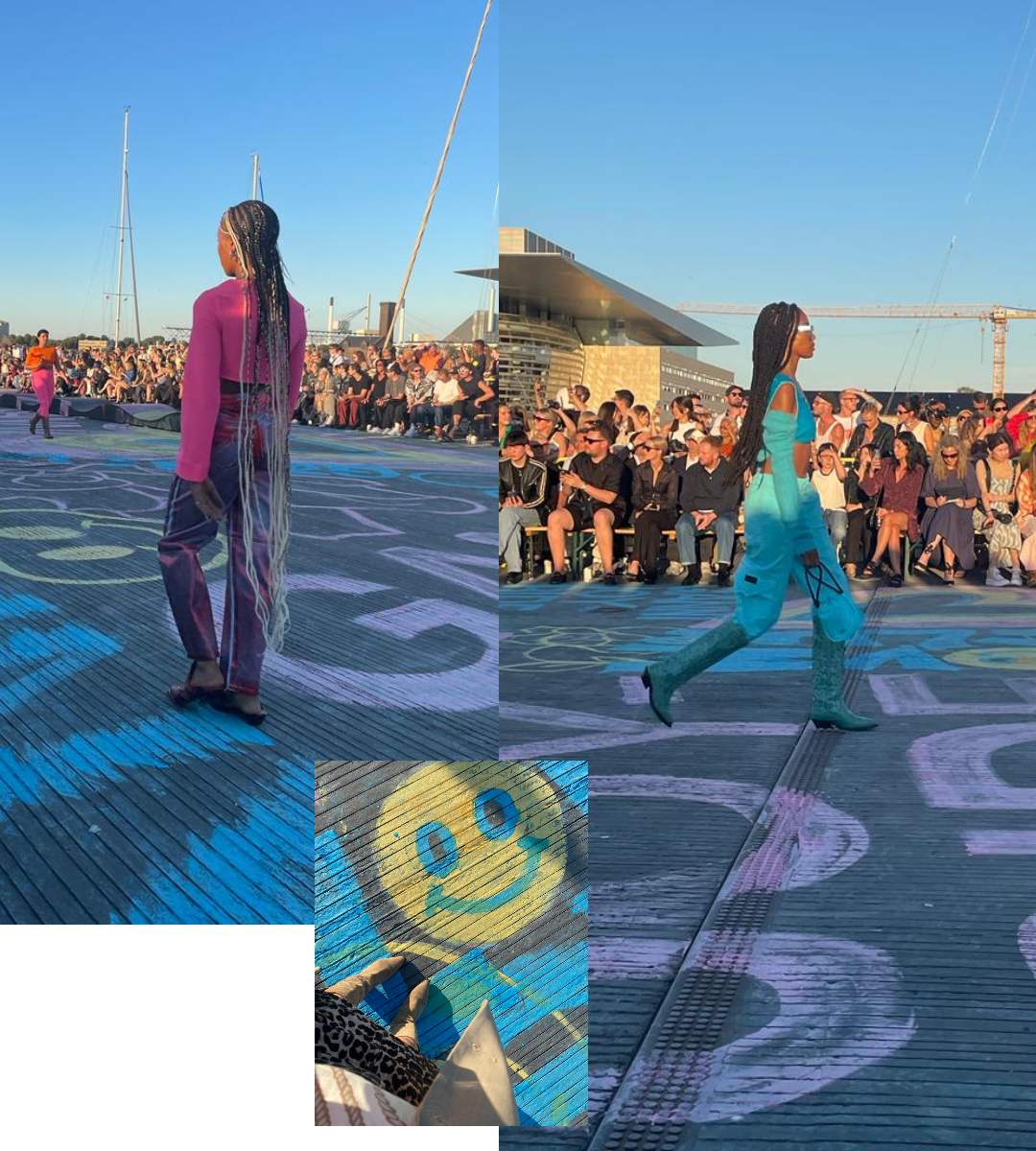 We talked a lot about how Copenhagen is during the summertime; how special it feels and that certain energy that's difficult to describe. 
The euphoric colours, sheer sparkles and cowboy boots in every colourway cemented that partywear is back. Not to forget, that this was Ganni's most sustainable collection so far, with 97 per cent of the collection labelled responsible – meaning that 50 per cent of the garment is certified organic, lower-impact or recycled.
#7 Rotate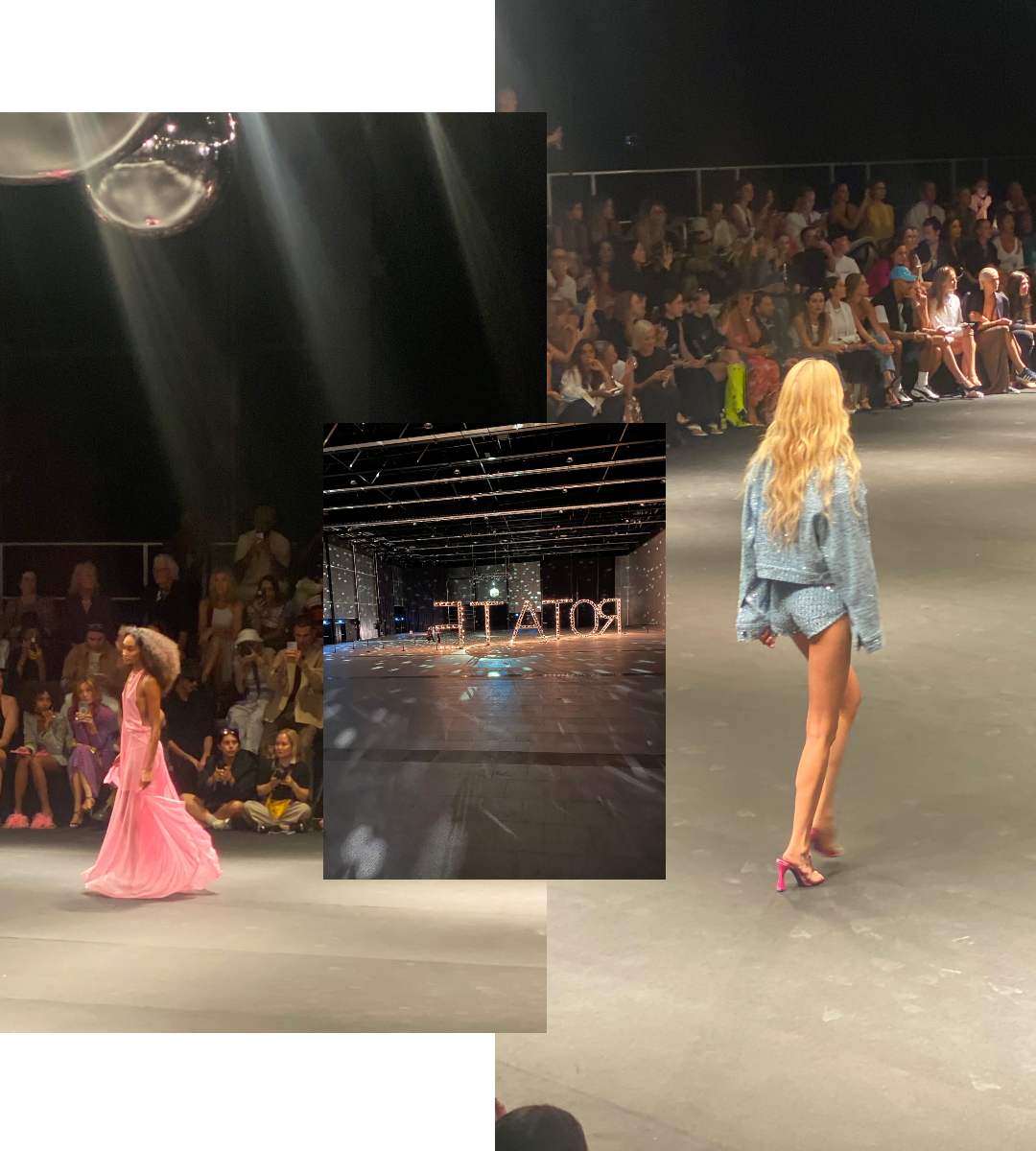 Renowned for their partywear and effortless glamour, this year's final show on the schedule was the Rotate Prom Party. Inspired by the mother-daughter-duo Lisa Bonet and Zoe Kravitz and their contrasting but complimentary styles, the collection was full of block colours and silky slips. 
It is all about embracing who you are, whatever shape, size, style. 
The collection featured references from the '90s throughout, with symbolic BFF heart necklaces, low-rise trousers and slinky metallic tops. Capturing the fun personality of the Rotate DNA there was plenty of sparkle and sequins in all forms of eveningwear, not to mention IT girl Emili Sindlev walking in a white mini dress and statement cape. 
Written by Holly Thompson
Featured quotes credit – Vogue Scandinavia