With the release of their second album Jackrabbit just around the corner, Brooklyn-based eight piece San Fermin are in high demand. Plucked up by a record label after just one impromptu concert, the band have since performed alongside The National and Arctic Monkeys to name but a few.
Constantly evolving and developing, the band produces powerful music with each of their personalities at the heart and Jackrabbit is the culmination of years of continuous growth.
Be one of the first to hear the title track of the album here, and while you're at it, why not read our interview with leader Ellis Ludwig-Leone?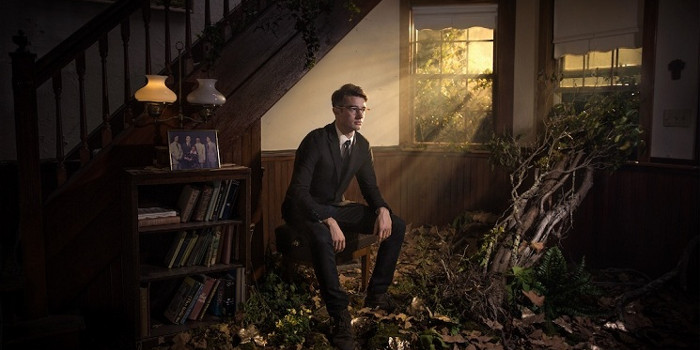 Question:

Tell us about your new album Jackrabbit

Answer:

It's our second record. I began writing it before our first record came out, but then I finished it after a year of touring. So it definitely changed with us as we've become a band. It feels much more blended together than the first record…I think we started to zero in on a sound that's specific to us.

Question:

How would you describe your sound?

Answer:

There are a lot of instruments. But the sound focuses on two singers, a guy and a girl. People used to talk about us as baroque pop, but I think this record is a little more streamlined, a little more aggressive. The style varies from song to song, so maybe just the general "indie rock" category works best.

The band formed after a single concert secured you a record deal, how was it being thrust straight into the limelight? It was exciting, things happened pretty quickly and we basically went from one show to being on tour for over a year. You learn to feel at home anywhere, because there are stretches where you don't see your own bed for a long time.

Question:

Who is your favourite band you have played with?

Answer:

There are so many good ones! Playing with the National was a thrill. St. Vincent too. The Head and the Heart. Arctic Monkeys. The Villagers. Courtney Barnett and Son Lux both were fun to tour with.

Question:

Where would you suggest someone visited if they were going to Brooklyn?

Answer:

If it's nice out, get a banh mi and eat it in Prospect Park.

Question:

Where's your favourite place in the world?

Answer:

I loved Iceland. I spent a week around midsummer playing music in this town called Ísafjörður which was on a strip of land across this beautiful fjord. It was perfect.

Question:

Who will you be listening to in 2015?

Answer:

I'm still catching up on 2014. The good part of being on tour though is that you're always running into bands and hearing new music, especially at festivals.
Favourite film? The Hugh Grant section of Netflix.
Favourite song? The Predatory Wasp of the Palisades Is Out To Get Us! by Sufjan Stevens.
Favourite fashion brand? Before we go on tour I always stop by All Saints.
Signature dish? I love a good soft shell crab.
To find out more about San Fermin and to check their UK tour dates for 2015, take a look at their site here.
Interview by Clare Potts. Images property of San Fermin