Hailing from the city of Baraboo in Wisconsin, PHOX are a six-piece alternative folk band that are just beginning to dip their toes in the British music scene. With their first British tour done and dusted, it's time you learned a little more about them.
The six band members met in high school but it wasn't until they had completed school, ventured into the big bad world and returned a few years later that PHOX was formed. Zach Johnston and Monica Martin brought the unlikely group together and, after co-habiting in Portland of Wisconsin, Madison, PHOX went from an idea to a fully-fledged band.
Their music is a combination of alternative folk and indie pop with hauntingly beautiful vocals from Monica Martin accompanied by melodies that err on the line between fun and soulful. Be sure to watch their music videos and be mesmerised.
We caught up with bassist and producer Jason Krunnfusz to learn a little more about the band, being on tour and Wisconsin…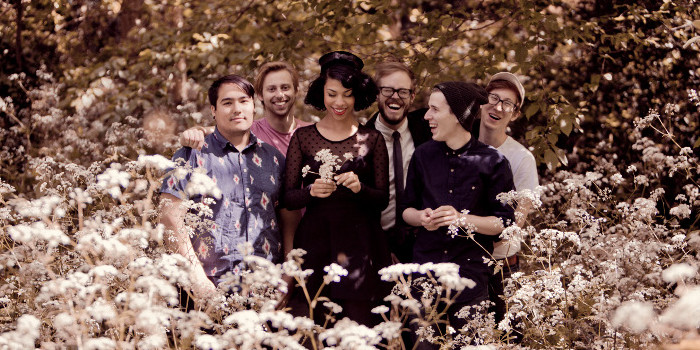 Question:

How would you describe PHOX?

Answer:

We are a group of friends who bonded over making music, and now we make music as a hobby instead of a basis to get together and hang out. We are constantly striving to be better individuals, not necessarily a better band. People are more important than our music.

Question:

Tell us about your debut album...

Answer:

It's a collection of the first songs we wrote as a band. It's a snapshot of a specific time in our lives as a group of people.

Question:

What is touring really like?

Answer:

It's fun, but not as fun as many would think. It's a lot of driving, getting snacks at gas stations, and only seeing a city from a few blocks of the venue you play. But it's all worth it.

Question:

Do you have anything out of the ordinary on your rider?

Answer:

The oddest thing is peanut M&Ms, but that's just because I'm addicted.

Question:

What is your favourite thing about Britain so far?

Answer:

The accent. You're so familiar with all of your homeland accents that when you run into new ones it is so fun. Learning the slang of a different languages is one of the most fun things to do.

Question:

What would you recommend to a tourist heading to Wisconsin?

Answer:

Go to Devil's Lake state park in Baraboo. It's unlike anything I've ever seen before.

Question:

Where is the most inspirational place in the world for you?

Answer:

Anywhere that isn't home. It takes you out of your comfort zone. That's always inspirational. More specifically for me, the Rocky Mountains have always blown my mind.

Question:

Touring as a sextet must get stressful, what do you do to relax?

Answer:

Find some time that can be alone time, whether it's grabbing lunch alone, or napping in the van, whatever works.

Question:

Can you tell us a story from your tour?

Answer:

So far? There isn't really anything terribly exciting. But on our headline tour of the US we got to play a show where the director of Hedwig and the Angry Inch came on stage and sang a duet with Monica. It was breath taking.
To find out more about PHOX, find tour dates and to listen to their music, visit their site here >>
Interview by Clare Potts. Images property of PHOX