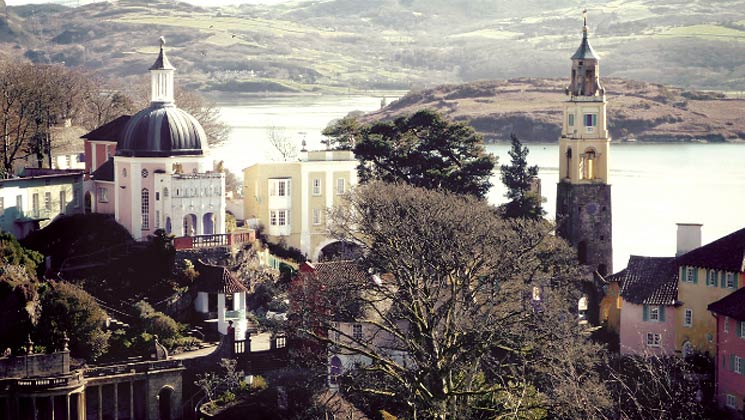 Festival No.6 is a festival like no other, in a place likeno other. Mid September will see Festival No.6 take over the picturesque Welshtown of Portmeirion with music, art and culture.
Winner of the UK?s Best New Festival, 2013 looks set to bean amazing year for Festival No.6. We caught up with festival director and founder Bradley Thompson, to learn more?
Question:

What inspired you to found Festival No.6?

Answer:

For me, the idea came out of a personal frustration that there were very few festivals around that appealed to me and my friends and what we would like to do and experience. This frustration turned into some what of a personal obsession to create an event that catered to a slightly more sophisticated yet youthful crowd who, for whatever reason, have become disenchanted by what was offered by other festivals.

A great deal of inspiration was taken from old and historic photos of Portmeirion and then picking the best contemporary acts that reflect that artistic heritage.

Question:

How did you get involved in the festival scene?

Answer:

I originally come from an advertising and branding background and then I started by developing experiences and bespoke events for young people. I guess as my own tastes and priorities have developed, it was nice to be able to help create something that I, my friends and the rest of the partners had an affinity with and would actually want to attend and experience.

If I wasn't working on No.6 I would be there as a punter, no question.

Question:

Tell us something we don't know about Festival No.6

Answer:

Apparently when Jools Holland visited Portmierion to do some filming for a TV show he was so impressed with the village that he modelled his studio and some of the other buildings at his home in Blackheath after the village.

Jools hasn't invited me round yet so I can't verify it but apparently it's true.

Question:

Tell us, what happened to festivals 1-5?

Answer:

The name Festival No.6 is a tribute to the cult 60's TV show'The Prisoner' which was filmed in Portmeirion. The main character, who is played by Patrick McGoohan, is only ever referred to as Number Six which is where we got the idea for the name.

Question:

What is your personal festival highlight?

Answer:

As far as the festivals that I have worked on, it's hard to beat the 80-strong Brythoniaid Male Choir performing Blue Monday in the Piazza in at Festival No.6. We also just had Kasabian play on the top of a mountain at a festival Austria with Barclaycard.

Generally though, I think as you get older, you don't spendquality time with all your friends, and I think that is my overarching andfavourite thing – just those fun times with your friends and all the peoplethat you meet along the way.

Question:

What would be your must see event this festival?

Answer:

The Brythoniad male voice choir were a huge hit last year,but not everyone got a chance to see them, so we'll definitely be bringing them back. Frankie Knuckles, the godfather of House, is flying in especially from NYC for No.6 so that should be very, very special.

Manic Street Preachers have a long-standing relationship with Portmeirion and have broken their two-year hiatus to play for us. We also have full programmes for the Belvedere Castle Gardens and the historic Portmeirion town hall, which we didn't use all weekend last year. We'redetermined to make the whole village come alive. We've also got a few special surprises that we haven't announced yet.

Question:

What made you choose the beautiful Portmeirion as a location?

Answer:

Portmeirion had always been on our radar, however it wasn't until one of the partners went there for a wedding and spoke to the owners and trustees that it became a reality. They were very open to the idea, and we all followed it up with a site visit and saw the amazing potential as a festival site, and how it was completely different to anything else – after a long night,in which copious amounts of wine were consumed, we had a handshake deal.

We felt we had a shared vision with those at Portmeirion, sowe really felt compelled to do this. This was all done relatively quickly andhappened towards the end of 2011 – 4 months later we launched the festival andanother 4 months later we put on No.6
Festival No.6 takes place in Portmeirion on the 12th, 13th and 14th of September.

To learn more about the festival, visit the website. To be in with a chance of winning two weekend tickets for the festival, simply enter our competition.