Copenhagen-based Ganni has been quietly making waves in the fashion industry over the past few years, becoming a bit of a cult label and one of the Scandinavian brands to watch. That effortlessly cool and stylish blogger you follow on Instagram? She's probably wearing Ganni.
This brand is all about the female – taking inspiration from icons through the ages and mixing vintage and contemporary designs to celebrate and empower women, as well as individuality. It's new and it's fresh, and that's something we have creative director Ditte Reffstrup to thank for. We sat down with her to talk about Ganni and Copenhagen style.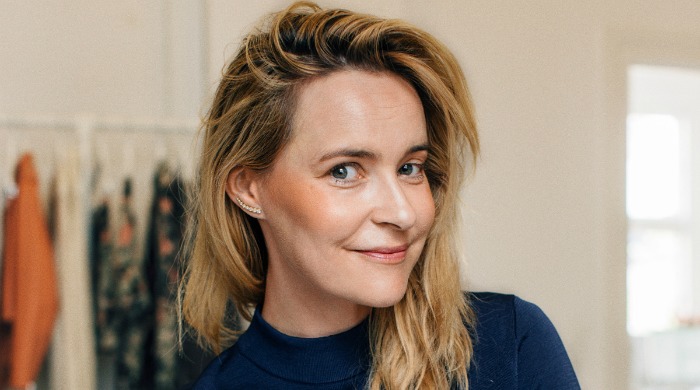 Question:

How would you describe Ganni?

Answer:

We are all about attitude, and feeling comfortable in your own skin. We love contrast, and that is an on-going element in our collections. We like to mix things up, and not necessarily do as expected from us. We pair a cool leather jacket with a lace dress, or sneakers with a silk kimono. We like to give our design some edge by adding an unexpected element. It's like the way chaos is the only constant denominator in chaos. Contrast is our chaos.

Question:

Ganni was founded in 2000 – how has the brand developed since then?

Answer:

It's true that the company was founded in 2000, but back then it was more of a con amore project for the original founder, a good friend of ours, who ran a gallery while starting Ganni. My husband and I joined the company in 2009, determined to create an international brand with Copenhagen as the starting point. Our collections have definitely evolved over the last few years as we have. The more confident you get, the better you are at following your gut feeling, and with that comes a strong DNA, and a clear vision of what Ganni is. And our woman seems to be tagging along quite nicely.

Question:

What was the inspiration behind the AW15 collection?

Answer:

I have been very inspired by the power women of the 1980s, especially Kim Basinger in her role as Elizabeth in the movie 9 ½ Weeks for our Fall/Winter 2015 collection. I love the notion of power dressing from the 80s. Power dressing plays with the understanding of what is masculine vs. what is feminine. The women of the 80s dressed in clothing which up until then had been thought of as strictly menswear, such as business suits, jackets with shoulder pads etc. The clothing made women feel strong and independent, and gave them this sophisticated look, which I believe is extremely alluring and sexy. I wanted to bring out this strength and sexiness with this collection.

Question:

What is your favourite piece from the collection?

Answer:

If I have to choose one favourite look, it must be the red seersucker silk. It has a casual sporty silhouette combined with a sexy bold colour. For Autumn I strongly believe in colours such as red, navy and black – I especially believe that red will be important for the season.

Question:

You're based in Copenhagen – does the city influence your designs?

Answer:

We find great inspiration from Copenhagen and the cool girls in the streets. You see many different looks here, but generally there is a laidback attitude and effortless approach to fashion. In bigger cities, you might find more high heels, suits or extravagant outfits than in Copenhagen. Here people are quite focused on the practical aspect of fashion. They want to look good, but they want to be able to bike around town and run errands as well. This corresponds pretty well with our design philosophy.

Question:

What has been the highlight of your career so far?

Answer:

The highlight of my career so far is definitely where I am today. Since I grew up in a gloomy fishing town in Denmark, I have been interested in fashion, and in how you can express yourself through your personal style. I looked pretty flamboyant in the pre-school schoolyard – when others wore pretty pink dresses I looked like Bananarama and felt great about it – and now I have turned my passion into a living.

Question:

What's next to come from Ganni?

Answer:

We want to make a difference on an international scale. Whatever that translates to is still unclear to us, but as my husband (Ganni CEO) and I are both insecure overachievers we are never quite satisfied with where we are and what we do. It's a tad stressful at times, but also a powerful driver and a guarantee that the brand will continue to move.
Words by Angharad Jones. Image courtesy of Ganni.