Sweet Baboo, now at the end of this year's festival season, is definitely one to watch. Finishing off the season with Festival No.6, he's had a busy year what with his fourth album and tour.
Hailing from rural North Wales, Sweet Baboo has gathered an assortment of various musicians who accompany him on stage, creating an every evolving sound. The delicate guitar pop, delicious melodies and insightful, witty lyrics  bring a smile to our faces and makes us eager to hear more.
We chat to Sweet Baboo (he let us call him Steve) ahead of his Festival No.6 appearance about the Welsh music scene, going on tour and his travelling brass section…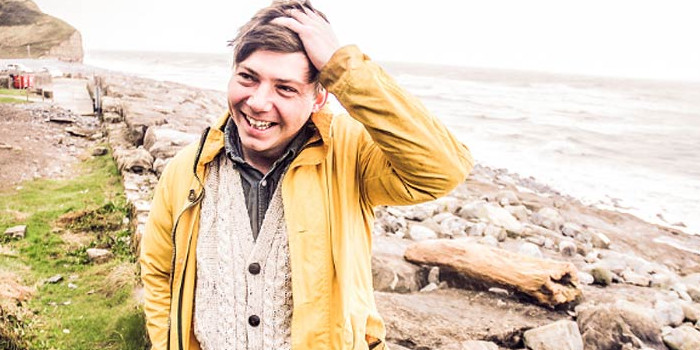 Question:

You're currently in the middle of festival season, how are you finding it?

Answer:

We (me and the band) have been having a fantastic time. I think since the beginning of July we've played a festival every weekend. There are worse things to do. On the main, we've had an extended band too, an all-singing all-dancing brass section so it has kept us excited and on our toes. Festival Number 6 will be our last festival this summer. Fingers crossed we can do it all again next year.

Question:

You're on your fourth album now, what has changed since you started making music?

Answer:

Personally, I've got fatter, (slightly) less cocky and a bigger credit card bill. Musically, I hope I've got better at writing songs and more confident as a performer but I don't think the style has changed all that much. I'm still waiting to go into my musical excess stage, maybe with the next album.

Question:

How do you feel about the Welsh music scene? Who are your top tips for up and coming Welsh acts?

Answer:

The Welsh music scene is fit and healthy and I'm very proud to be part of it.

I'm not sure how up and coming all of these bands are but I love R.Seilog and Islet who are both playing Festival number 6 too. I am also a big fan of Y Niwl (A Welsh language instrumental surf band) Brothers (A band of 2sets of Brothers from Cardiff who make '60s- inspired garage pop), Tender Prey (new solo project by Le B which is  a bit psychedelic, a bit bluesy and a bit folky – she has an amazing voice) and Euros Childs has a new record out in October which I'm excited to hear.

Question:

You're supporting Johnny Flynn on tour, if you could support anyone in the world (dead or alive) who would it be?

Answer:

It would be fun to support the greats from the olden days, especially when they toured for what seemed like years without a day off, sometimes playing multiple shows every day. You know Johnny Cash, Louvin Brothers that kind of thing. I'd also like to be part of the Grand Old Opre, that would be fun too.

Question:

What are you most looking forward to at Festival No. 6?

Answer:

Portmeirion and Festival number 6 is not far from where I grew up so I am looking forward to going home to see my parents and also seeing lots of friends who I haven't seen for a long time. As for music, I can't wait to see Neon Neon, everyone else I know has seen the show already and have told me that it's pretty spectacular.

Question:

What can we look forward to seeing next from you?

Answer:

We have a tour in November, then I hope we're re-releasing the records we put out on Shape Records because they're unavailable at the moment then, if all goes to plan, we'll record a new album at the beginning of next year.
Sweet Baboo is playing at The Lost in the Woods Stage on Sunday at Festival No.6, make sure to catch him if you're there.
For more information and to listen to his music, visit his website.