We're sure you'll agree this year has been like non before. With our plans of social gatherings, holidays and celebrations all put on hold, the UK's workforce relocated to the kitchen table or our DIY home offices. Not only were our personal plans put on pause but we saw a whole host of annual fashion celebrations cancelled or held in a virtual capacity. We skipped this years Met Gala and both Fashion Week's and Fashion Award ceremonies were watched online making them more inclusive to all. In a year of mass change, the industry has reacted with such creativity and leadership for a better more considered future of fashion. Here are our top fashion moments of the year.
#1 Emergency Designer Network
Consisting of London based designers Bethany Williams, Cozette McCreery, Holly Fulton and Phoebe English, the Emergency Designer Network is an enterprise working together with an initial 10 small scale manufacturers to produce vital PPE for our health service. With the total cost of materials required to make one reusable pair of hospital approved scrubs only £6, the EDN are calling on skilled sewers with sample machinists, garment industry background or manufacturers with sewing capabilities – as well as any donations to go towards the raw materials needed to create the garments.
#2 Vogue Front Line Covers
The front cover of Vogue was a little different this July. Number two on our list of fashion moments is Vogue's trio of cover stars in a special celebration of the UK's front line workers. In the height of the pandemic they still put on their uniform each day and went to work. The front cover featured Narguis Horsford a TFL train driver, Rachel Millar a Midwife at Homerton Hospital and Supermarket worker Anisa Omar, who all shared stories of their experiences working through the pandemic.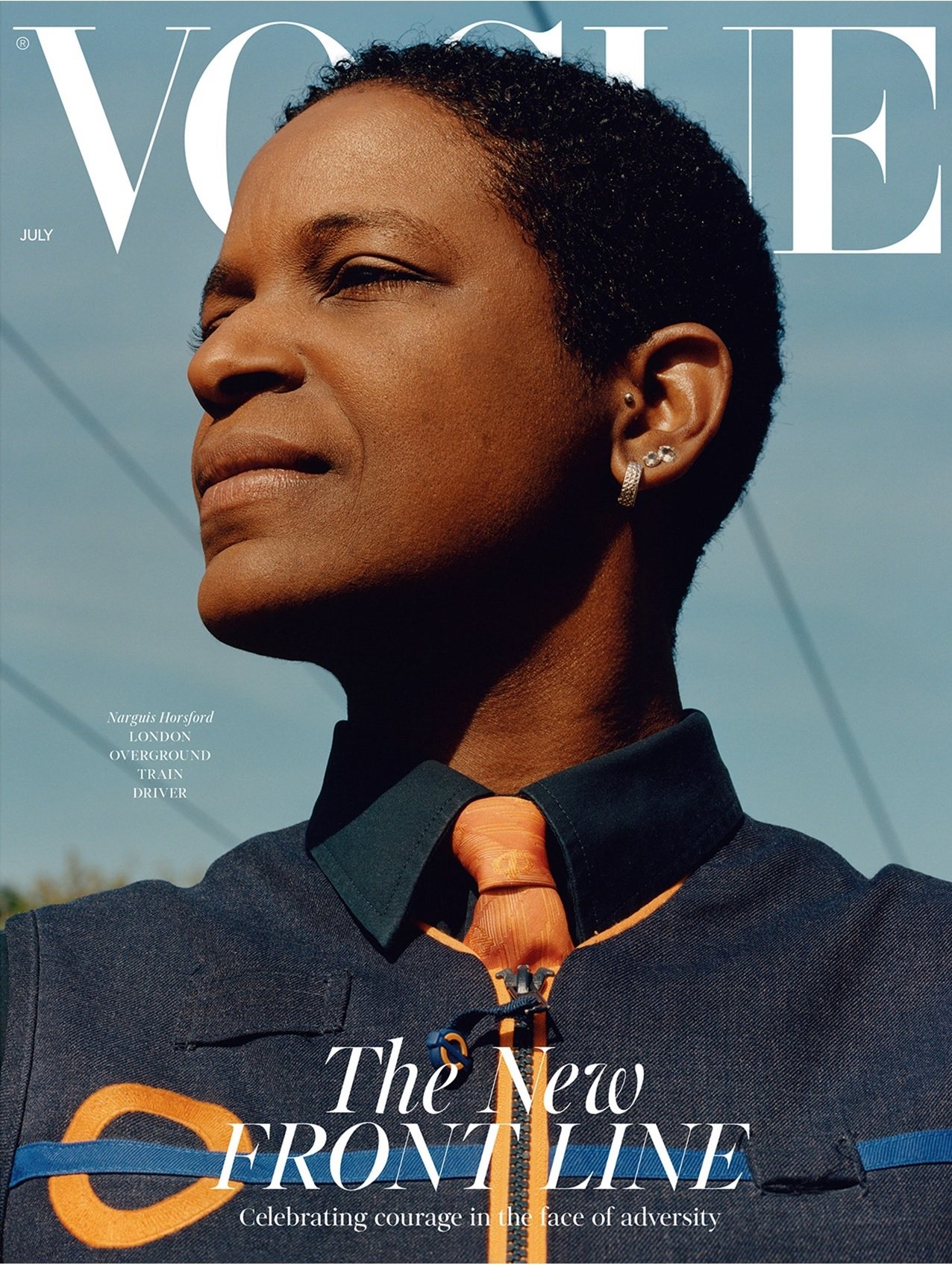 In a similar celebration of the UK's workforce, designer Michael Halpern decided to shoot eight emergency service workers to spark joy and hope rather than putting his efforts into a London Fashion Week runway show.
#3 BLM – Aurora James
2020 will always be a pivotal year for the BLM movement, with protests and demonstrations going ahead across the world regardless of the pandemic. With the fight for equality also making strives in the fashion industry through a variety of trailblazers including Aurora James. Aurora, Creative Director of Brother Vellies spearheaded a campaign calling on all retailers to dedicate 15% of shelf space to black owned businesses, calling the campaign the 15 Percent Pledge. The ongoing project has seen rapid success with labels and publishers including Vogue, Rent the Runway, Who What Wear, ban.do and more all onboard.
#4 Virtual Fashion Week
With uncertainty around Covid-19 at the beginning of 2020, menswear designers were still able to showcase their AW20 collections on the runway as done previously. But as the virus started to spread across the world at rapid pace fashion weeks across the globe took a different form from February. With Fashion Week's being streamed live for all to view, we saw fashion films, virtual runways as well as designers demonstrating their expression and creativity via VR and AR. Designers found alternative ways to showcase their new collections by tapping into technology, with labels including Burberry, Dior, Jimmy Choo, Adidas and many more bringing us pieces from their new collections via augmented reality letting us virtually try before we buy through filters on our phones.
#5 Outdoor Runways
Socially distanced in the most beautiful way possible the Jacquemus SS21 show was a stand out fashion moment of the year. With the French Vexin Regional National Park as backdrop to the collection, with restrictions eased and public being able to meet in outside capacities, models walked through the fields of wheat with guests spaced out and wearing masks. Similarly, Burberry's SS21 mens and women's shows took place in an undisclosed forest in London surrounded by nature and live streamed to all.
#6 Loungewear
We couldn't put together a fashion moments round up without mentioning our reliance on loungewear this year. Whether you started lockdown with all the intentions of getting dressed as if you were going to the office, or knew from day one you needed to up the amount of sweatpants you own, we've been a nation living in loungewear this year. We've seen designers really excel, bringing not only the comfort we expect but also transforming loungewear to something not only you're housemates or family see you in but something you would gladly wear to the supermarket. Here are some of our favourites at Coggles.