Parisian chic with an heir of subtlety was the core ethos at the A.P.C AW18 show yesterday afternoon as we step in to the final days of Fashion Month. The first ever mixed catwalk collection by the brand took place at the A.P.C Headquarters at 35 Rue Madame, Paris, and the collection harboured an overarching theme of nostalgia, with form fitting, clean lined silhouettes almost recalling an 80s American high school. From sweaters belted in to perfectly fitting jeans on men, and pocket or pleat detailed knee length skirts on women, all styles were encompassed in a fall friendly palette (bar the light coloured jeans trend which we gladly welcome for another Autumn).
Pattern and sophisticated detail was key, with dogtooth and diamond patterned granddad pullovers layered over high collared shirts and ribbed polo necks, all once again allowing A.P.C to dominate in the sweater department. On women smaller vintage inspired flower patterns were prominent across garments, with lime green accenting prints. Silk textures showed the purest cuts of fabric from women's cuffed sleeve dresses to men's bomber jackets, and outerwear drew inspiration from military styling with shearling fur trims on aviator jackets, not to mention a powerful floor length burgundy trench.
Accessories and footwear saw a modern classic, a tweed bowling bag with the A.P.C logo pasted across in white (cue the AW18 street style go-to). Women's footwear saw Cowboy boots done with simplistic French effect as well as strapped dolly shoes and traditional penny loafers. Men's saw 'Dad trainers' to match the overarching colour palette, accompanied at one point by a full leather boiler suit. Hair and make-up were stripped back in traditional Parisian girl style, allowing a natural look to accompany another signature Jean Touitou collection.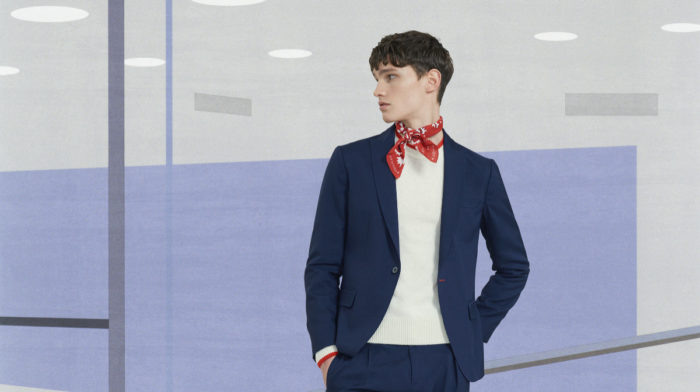 No one does effortless, chic nonchalance quite like the French. Take a look at our top 10 French brands you need to know here on Coggles.
Words by Alexandra Neilson-Clark