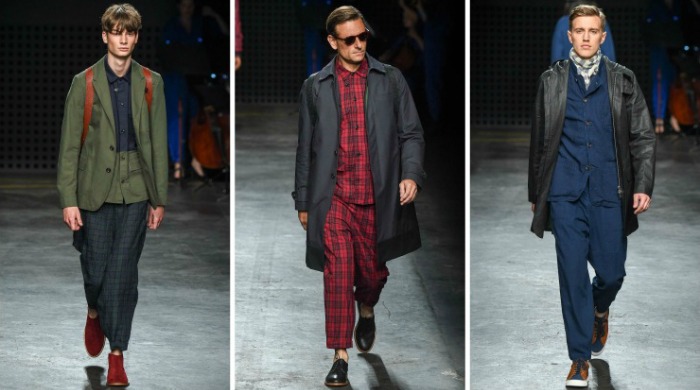 As the lights came on at The Old Sorting Office at the beginning of Oliver Spencer's SS16 show, we were first greeted by Q Strings – violin players dressed in blue overalls playing a collection of songs – Joy Division's Love Will Tear Us Apart amongst them. Then came the models dressed in modern, clean designs mixed with new silhouettes that resulted in well-constructed summer tailoring.
This season, Oliver Spencer took inspiration from minimalist sculptor Richard Serra, who used non-traditional materials in his sculptures. This is referenced through the clashing colours, prints and textures in this collection, which come together and somehow work.
Unusually for spring/summer, rich, dark colours were seen throughout, with aubergine, dark green and dark blue making up the core shades of the collection. Tartan was also heavily used – a print normally reserved for autumn/winter – in everything from pyjama-inspired two pieces to wide legged trousers. This collection almost seems as if Spencer had the British summertime in mind, with these dark colours, use of heavy fabrics such as denim, chambray and suede, and clever contrasting layering throughout.
Shop Oliver Spencer at Coggles >>