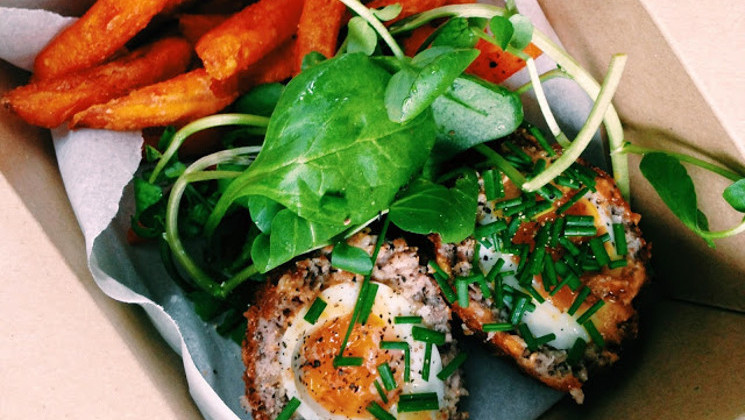 Scotchtails offer a delectable combination of scotch eggs and cocktails, seriously, what's not to like? Dreamt up by fresh out of uni London boys Oli and Dom, Scotchtails has gone from strength to strength over Summer since they pitched up in Berwick Street Market.
The guys have been kind enough to share a recipe with us for you to have a go at making your own Scotchtails Scotch egg, view the recipe here. Be sure to tweet or Facebook us a photo if you have a go yourself.
We caught up with Oli and Dom about eggs, cocktails, bizarre recipes and more…
Tell us the tale of Scotchtails.
Scotchtails was born out of our consumer relationship with eating in London where, up until June we attended UCL together. The amazing range of food experiences available was really exciting for us and we decided it was something we wanted to get involved with commercially. At the same time we were cooking loads of scotch eggs and our friends couldn't get enough of them so it developed naturally.
What inspired you to re-invent the humble scotch egg?
The scotch egg was one of few things left on the shelf in terms of re-invention. London is full of places that have done a fantastic job of revitalizing so much food not traditionally associated with quality eating out, the burger is a perfect example. We wanted to experiment with something unsaturated.
Beyond this the scotch egg is a joyful piece of cuisine. Its form is extremely versatile, one is limited only to food that doesn't clash with egg and breadcrumbs which keeps things open. It is also playful and has an air of mystery right up to the point at which it is cut open to reveal 4 pristine layers (hopefully); breadcrumb, meat, white, yolk. We slice the eggs in front of our customers, there always seems to be a shared tentative moment before all is revealed.
What's your most experimental egg? Which is your personal favourite flavour?
Last week we wrapped a Clarence Court Gladys May duck egg in braised pig cheek with a layer of apple puree and seasoned using white wine vinegar, salt and finely crushed crackling. We also do aversion of the turducken (a 3 bird egastration of turkey duck and chicken)which creates a great layered effect.
The lime salmon is probably our personal favourite though. Fantastic, light and summery served with a simple leaf salad.
Can you give us a sneak preview of what cocktails will be on offer at your future events?
The scotch eggs are all paired to a cocktail by award winning mixologist Boris Ivan of Galvin at Windows. The classic pork for example is enjoyed with a clear Bloody Mary made with gin where tomato, chilli and celery salt are blended and then strained. The roast duck and cranberry stuffing (which was our special today) is complemented by a spiced whisky sour, think cranberries, cloves and a cinnamon stick.
What's next for Scotchtails? 
We will be putting on some events where we can deliver the full package, though we are holding off for a little while as we want to get it right and we have been so busy with the stall. We have something exciting planned for Berwick Street over Christmas, and next summer we are looking at lots of festivals and events so stay tuned.
For more information, visit their website here or visit them in person in Berwick Street Market. Follow them on Facebook and Twitter for updates on their daily special, watch out for the salmon egg, we love it!