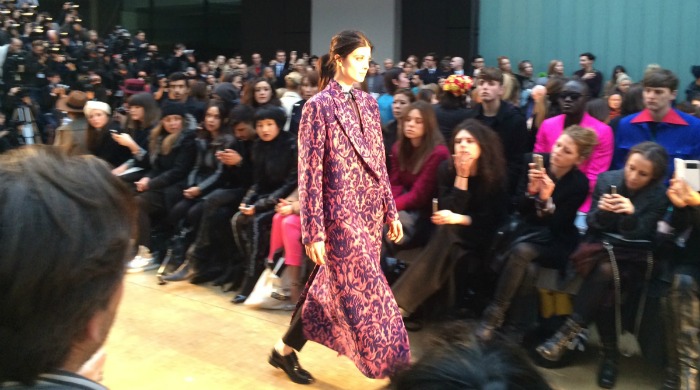 Situated under the transparent roof of Central Saint Martins, the sun quite literally decided to shine upon Paul Smith's latest collection. In a crowded and excited main hall, a positive buzz possessed the air as the fashion world anticipated the unveiling of AW14.
As always, the designer did not disappoint. Print featured prominently, creating a splash on trouser suits, jackets and skirts whilst new textures were introduced using bright red and black fur. A bold colour palette emphasised the 'it' new shape for autumn winter, carefully cinched waists creating irresistible hourglasses upon the catwalk.
As seen elsewhere this fashion week, knitwear once again featured a rollneck and power dressing was reinterpreted for the modern woman, suits dominating the runway. The overcoats for this collection were particularly stunning, perfect both in proportion and texture. Printed, panelled or plain, it seemed Paul Smith could do no wrong where outerwear was concerned.
That said, the smaller details of this collection also captured the imagination. The accessories, especially the sunglasses and belts which featured, added an edge to even the simplest of outfits. The staple silk scarf was updated with new prints and colourways for AW14. The choice of fabrics overall was inspired, flowing silk skirts contrasting with heavier knits and weaves. It is rare that designers can deliver season after season and continue to remain fresh, yet it seems Paul Smith has it down to an art form.
Words by Olivia Cooley. Image by Olivia Cooley and Clare Potts.