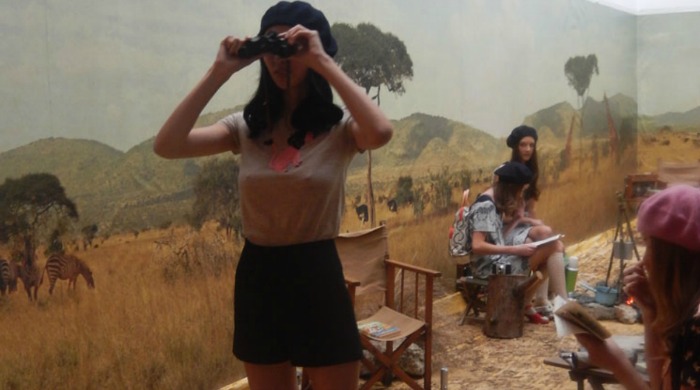 The Orla girl has officially taken a walk on the wild side; she has meandered into the wilderness this SS14 collection. Inspired by girl scouts, brownies and Suzy Bishop, the Orla Kiely SS14 presentation was a modern take on Seventies silhouettes, fully immersed in safari chic.
Complete with cartons of Um Bongo (tell me you remember that stuff?!), the show was, as one would expect from Orla, a great show – the models fully taking on the girl scout role and adding life to the collection.
This is not to say that the collection needed any assistance from the girls. Oh no. The collection featured a rich contrast of textures – lots of embellishment and animal motifs, with repeated giraffe and zebra patterns. Kiely had managed to create a brilliant balance between detailed and excess, with the beaded organzas beautifully delicate, and animal shaped mini-bags.
The whole atmosphere of the presentation was quite other-worldly, with stand out pieces including the mustard yellow sweater with lion motif and loose nude pink shirt dresses teamed with boxy bags inspired by traditional binocular cases.
As expected, the Orla Kiely collection was fluid and featured a playful interpretation of jungle chic. In keeping with Kiely's common style, feminine yet not saccharine sweet, retro yet modern, stylish yet full of utility.