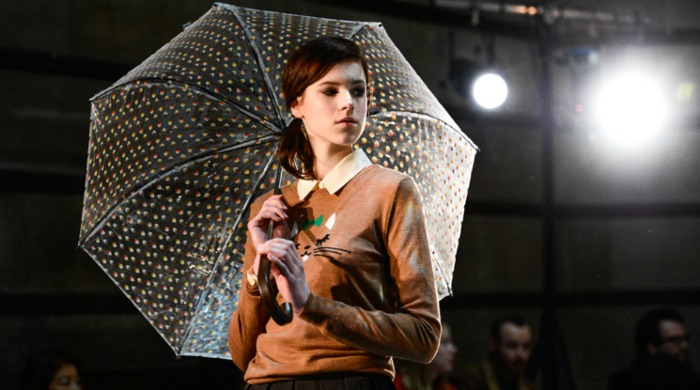 From the sea of umbrellas at Somerset House to the countless heels sullied by puddle water en route to the next show, Orla Kiely A/W '14 was possibly the most apt show this season.
Entitled 'Raining Cats and Dogs' and inspired by classic films such as 'Singing in the Rain', this collection drew influences from the 1960's, Petula Clark and Orla's favourite films including 'The Umbrellas of Cherbourg'.
In contrast to previous seasons, black was prevalent throughout. Almost entirely monochrome with the occasional burst of pastel pink, sky blue, navy and mandarin, it strayed from Orla's quintessentially rich and varied colour palette.
As always, print played an integral role but this season saw a more playful take than previously. From oversized jacquard cat prints to cartoon like cats knitted into fine weave jumpers, dogs and cats lived in harmony dotted throughout the pieces.
Orla's signature floral print has been subtly re-imagined for A/W '14, with each petal resembling a raindrop. Featured throughout the accessories and splashed across dresses, the new shape brought an extra dimension to each piece it graced.
Standout pieces included the jacquard cat print, midnight blue two piece suit, the pastel pink coat with fur collar and the beautiful, classic shirt dress nipped in at the waist.
As always, accessories complete the look and this season's accessories do not disappoint. Poodle handbags inspired by Leith Clark's dog Tilda, printed leather and ponyskin, clutch bags and satchels make up the majority of the accessories but for the second season in a row, the Clarks collaboration steals the show. From loafers to t-bar mid-heel platforms in beautiful burgundies, emeralds, mustard and textured black, we instantly fell in love.
Shop the Orla Kiely collection here >>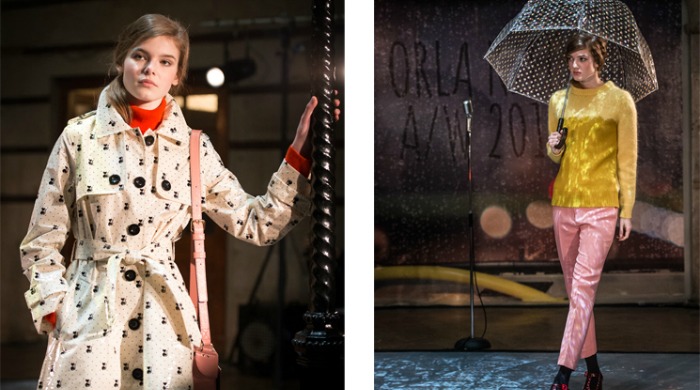 Words by Clare Potts. Images by Alex Green.