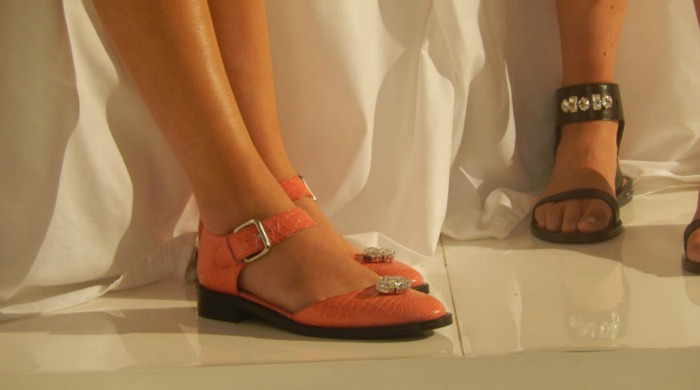 Located in Il Bottaccio, the Markus Lupfer presentation location was visually impressive. Based around 'teenage dreams' the presentation faced lookers-on with a teenager's room, the walls laden with cuttings-out, the floor dotted with a desk, a bed, a bookcase.
The pieces were fantastic. Bomber jackets, skirts in multiple lengths and styles, blouses and sweaters had all been given the floral treatment. The print was reminiscent of watercolour paintings, with the photographic prints blurring and merging into each other to create visually striking pieces regardless of the style or fit.
Other pieces included white long sleeved shift dresses, oversized two-piece sets of skirts and t-shirt blouses, as well as sweaters and skirts stamped with cat motifs. In comparison to the photographic floral print, the rest of the collection was largely neutral – mainly nude, lilac and grey shades which provided fantastic backdrops to the various patterns, motifs and prints that Lupfer used this season. Cat and floral prints weren't the only details used, as various sweaters featured 'typical' colloquialisms such as 'lame' and 'loser', as well as a few select sweaters with small details like badges and cartoon style illustrations of a female face. Whilst these pieces has less oomph than the photographic floral and structured white pieces, they added a lighthearted approach to casual style.
The collection was incredibly wearable, and although inspired by 'teenage dreams' would easily suit much wider age ranges, especially the crisp, white pieces which are effortlessly chic and timeless. Teamed with patent neon shoes with simple strap details and buckles the message is clear – comfortable pieces that don't compromise on sartorial prowess.