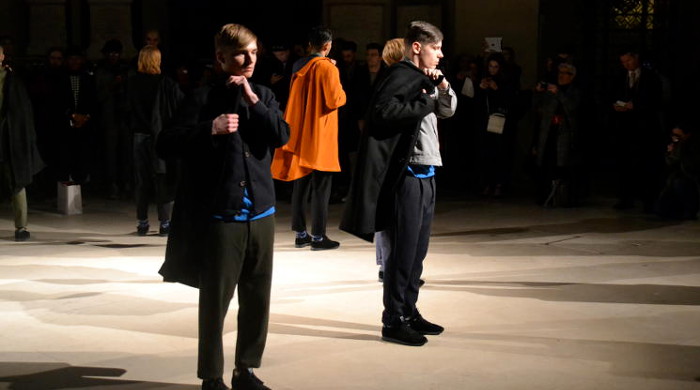 Under the ornate chandelier and grand setting of St. George's church, the Universal Works models stand motionless in a circle not looking at one another, instead fixing a stern gaze upon the audience. A track reminiscent of a metronome filled the cavernous room and so began a choreographed routine to showcase the collection in an almost theatrical manner.
The show, entitled 'Pass', was created in collaboration with video and performance artist Billy Craigan-Toon in an effort to transform a static presentation into something more. Like nothing we have seen and London Collections: Men before, the choreography saw the models interacting emotionlessly with each other. In perfectly timed movements to the beat of the metronome, the models passed outerwear in rotation to showcase to every member of the audience, ending with a pile of discarded coats.
The Universal Works AW15 collection itself flows seamlessly from previous collections with considered functionality at the heart. Utilitarian in design and clearly concentrating on fit, structured woven shirts and bright tees lay under single breasted, modern suit, bomber and classic denim jackets. At first glance, the colour palette of the collection was muted navy, black and khaki with one stand-out orange cocoon coat taking centre stage, but with closer inspection flashes of cerulean blue and dove grey featured throughout.
Detailing reminiscent of workwear was prevalent throughout the collection from external pockets to carefully selected buttons. Collars varied from classic suit to button up whereas trousers varied from ankle skimming to front pleated.
A promising collection for Autumn/Winter 15 from Universal Works with potential for layering, mixing, matching and styling to enhance the functional personality behind the design.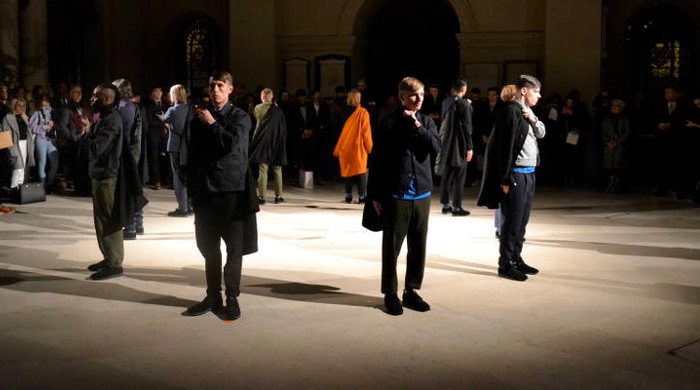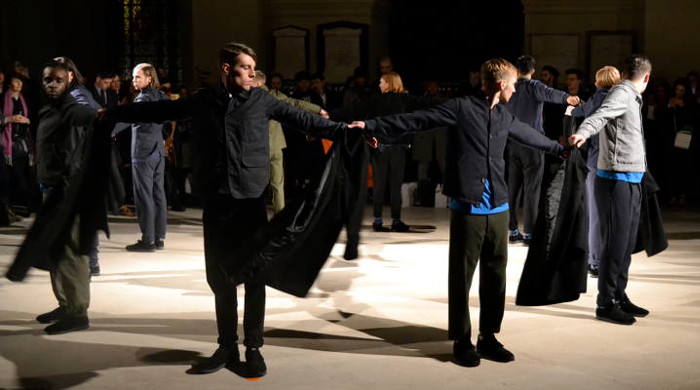 Words and images by Clare Potts