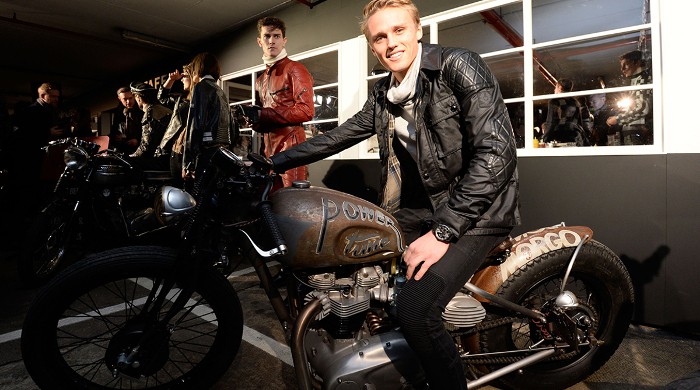 Sticking closely to its British motorcycle heritage, Belstaff transformed an underground carpark across from the Houses of Parliament to create the scene for its "Ton-Up Boys" presentation. No detail was left unattended, as vintage motorbikes lined the sloping entrance, projecting black and white film onto bare walls as leather clad bikers conversed in typically stylish and simultaneously rugged studded attire. The ground floor was transformed into a rock-and-roll diner, featuring subtle nods to the fifties at every turn as guests supped on hot toddies and toast.
Heavily influenced by Marlon Brando in the seminal 1953 movie "The Wild One", the real life 'Ton-Up Boys' of Britain's nineteen fifties were heavily into their rock'n'roll, custom made bikes and attempt to do a ton (reach speeds of over 100mph). Customising their attire in order to give it a british twist, Belstaff's modern equivalents were equally as jack-the-lad, the models clearly enjoying their new found identities and slick greased back hair as much as the spectators.
If the abundance of shearling throughout LCM AW15 had gone amiss then Belstaff successfully reinforced the point. Luxuriously gargantuan shearling lapels bedecked leather jackets and thick woollen socks overlapped heavy black motorbike boots. Using a striking combination of textures to complement the classic leatherwork for which Belstaff is best known, ribbed leather trousers were styled with soft mohair jumpers and classic cotton turtle necks. Knitwear was presented in a neutral palette, with creams and pale greys featuring heavily. In honour of their chosen muse, Belstaff also did not shy away from the classic leather all-in-one, but boldly emblazoned their logo across the chest of red and monochrome creations, expertly cinched at the waist.
British band "The Propellers" provided the perfect soundtrack to what proved to be a memorable evening, in an unmistakeably traditional and yet rebellious Belstaff fashion.
Shop Belstaff for Men now on Coggles >>
Words by Olivia Cooley. Image property of Belstaff