Founded in 1995, London-based YMC (You Must Create) is one of the most exciting British menswear brands in contemporary fashion. Foregoing trends for understated and wearable style, YMC is a distinctive brand that stands out amongst the rest. Often taking traditional designs and updating them into something fresh, YMC clothing is both timeless and original. We speak to founder and designer Fraser Moss about the latest designs, how music influences YMC and his favourite way to wear the clothes.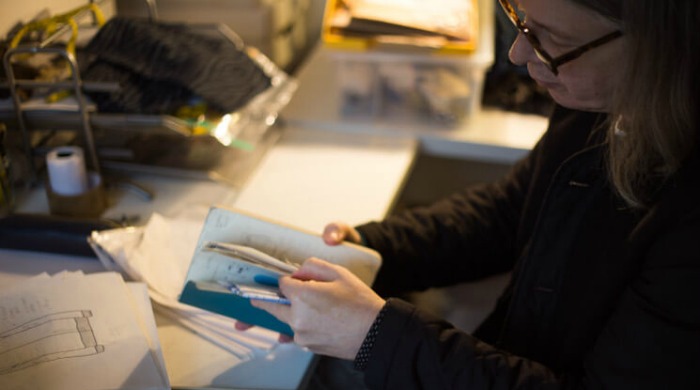 Question:

Tell us about YMC

Answer:

We are a British label that has now been in business for 20 years. From the offset we wanted to create understated clothing with a twist; the emphasis should always be on style and not trend.

Question:

What do you do in order to keep yourself and your collections creative and innovative?

Answer:

Modern life is pretty mediocre. The world has become so homogenised with identikit high streets and an X Factor generation deluded by fame. Keeping your individuality is, in itself, being creative.

Question:

Where do you get inspiration from for your collections?

Answer:

I collected things obsessively from an early age, everything from vinyl to books, mid-century studio pottery, art, taxidermy, and vintage clothing. My house has begun to look like the Old Curiosity Shop.

There is no off switch with what I do. I regularly wake in the night with an idea so I am never without my notebook. I'm not complaining though – I love my job.

Question:

What were the key influences for the SS16 collection?

Answer:

Japanese workwear and '90s minimalism.

Question:

Past decades are often referenced in your collections – is this a conscious decision or do you naturally gravitate towards bygone eras?

Answer:

I grew up through what I consider is the golden age of youth culture and this obviously has an influence on my design, however I feel we are a modern label that works to the adage of you have to look back to go forward.

Question:

Music also plays a big role in your presentations each season – does music and fashion go hand-in-hand for YMC?

Answer:

Music and fashion went hand-in-hand in my youth and back in the day trends tended to happen through music scenes or on the street; I have always been interested in this form of tribalism.

Question:

What are you listening to at the moment?

Answer:

I am a vinyl addict who cannot stop buying and I have broad tastes so I tend to be listening to many types of music at one time. But I do particularly like the Edward Penfold LP at the moment – he's an artist from Bristol who has a Syd Barrett vibe.

Question:

How would you wear the pieces from the SS16 collection?

Answer:

The collection has a relaxed vibe and should be worn accordingly, I tend to size up to create a looser silhouette that gives a stylish and louche feel.

Question:

Tell us something about yourself we don't know?

Answer:

I am Welsh originally. There are more castles in Wales than anywhere else in the world. It was the only way the English could get us Celts to behave ourselves!

Question:

What can we expect to see next from YMC?

Answer:

It's hard to believe but we've been in business now for twenty years so there are a few celebrations coming up and a few interesting collaborations.
Words by Angharad Jones. Images courtesy of YMC.