The 15th Mercedes Benz Berlin Fashion Week began this week with a myriad of designers taking their collections to the runways. We have opted for a slightly more visual take on reporting this season with our resident live illustrator Megan Ruth St.Clair Morgan taking her watercolours and fine liners over to Berlin to capture everything in ink from the front row.See our highlights of the shows below and don't forget to check ourtwitter, Instagram and Facebook for regular updates.
Ragged Priest,  Bread and Butter Berlin
Presenting their S/S15 and A/W15 collections on their stand at Bread and Butter Trade Show Berlin, The Ragged Priest brought the street to the disused airport turned carnival set up of BB. With their funky foiled jeans to their sequinned text ridden tees they had it all. Splurging with colour, ace prints and textiles they showed their true versatility as a brand. Spotlight is on their foil based metalic jacket with the pink shine. This jacket screams festival rain shower cover up… with its funky foil style shine this was the true favourite of both their SS15 and AW15 showcase.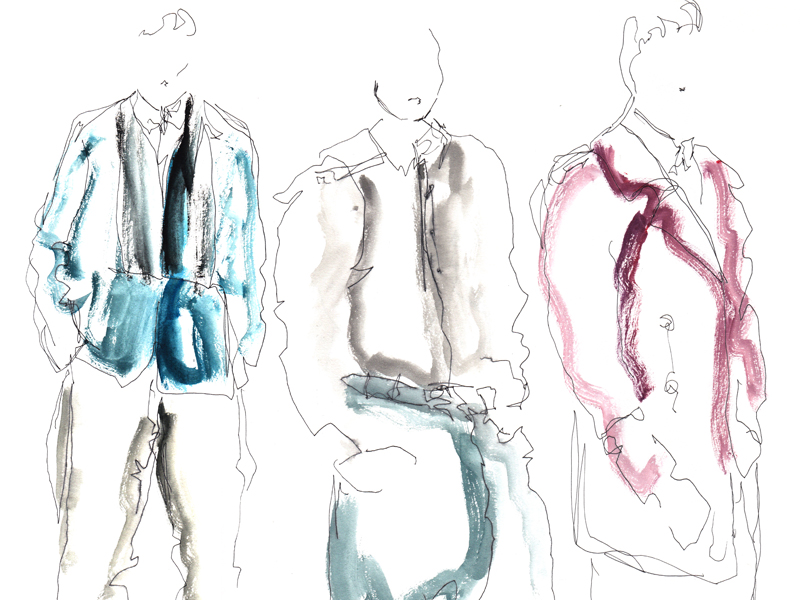 SoPopular, MBFWB
A tailored street wear collection worn by tattooed/bearded men who brought the street to Berlin Fashion Week. Monochrome filled the busy catwalk space with a tailored but casual vibe running through the collection with the addition of a few strong collars and detailing the pieces were brought to an exclusive standard. Strong outerwear in blacks and greys brought the collection to an end with a flowing cape to finish.
Slick classic tailoring was joined with modern detailing as Brachmann presented their SS15 menswear on the stage at MBFWB, filled with a bruised colour palette of strong burgundy purple and deep navy blue. Strong collar detailing took the show by storm with classic fastenings changed forever, strong wide leg tailored trousers were tailored to perfection. A very classic and tailored show, commercial with an element of bespoke details all round.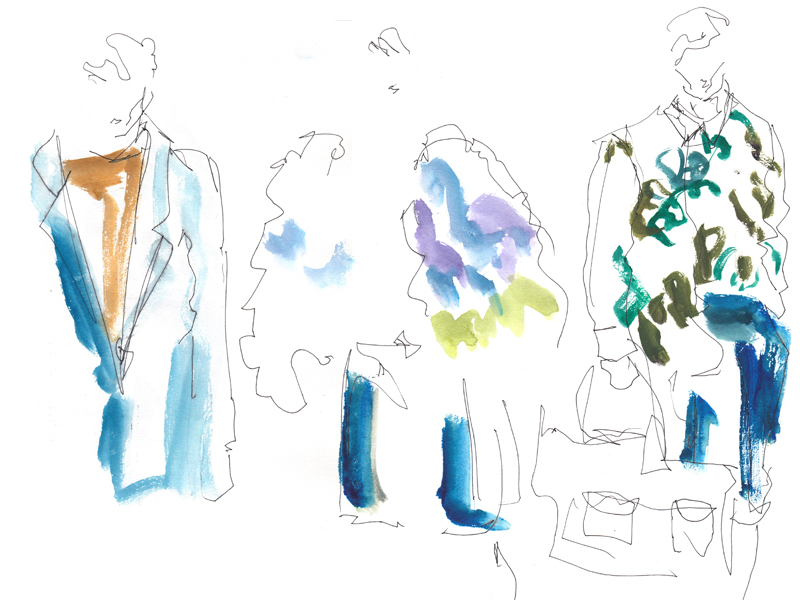 A vibrant start to fashion week with DYN, first look brightens the show in an instant with an origami flower built jacket drowning within the greens and blues that filled the colourful tailored collection. Strong tailoring was combined with daring floral prints for men, intricate details within the collection to finish, a colour filled contemporary menswear collection. Awash of greens, blues and browns with the subtle hints of pinks and purple to create a feminine inspired collection but stayed strong to its menswear roots.
Oversized and slouchy chiffon drapes with tailored qualities filled the simplistic showcase of Sontag's collection, with a muted colour palette with pops of sunshine yellow to brighten mood within the mixed muted toned collection. tailoring met cleverly hung drapes to create a very slouchy silhouette, showcasing a sultry feel to the collection as the clothes hung over the slicked back pristine models.