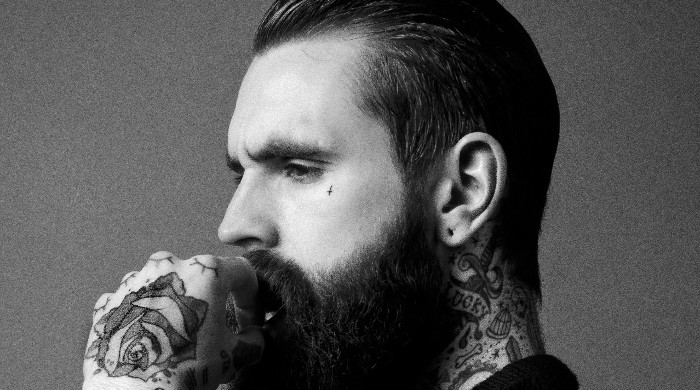 Represented by Nevs Models London, Ricki Hall is the infamous model that stands out in the fashion industry for his bold bearded and tattooed look. Having appeared in campaigns for Men's Health, Paul Smith and Diesel, he's a busy man in hot demand. With over 35,000 Twitter followers and over 152,000 Instagram followers, it is clear to see that Ricki's intriguing look draws attention from across the globe. We caught up with Ricki and found a little bit more about the guy behind the beard.
Your beard has become famous in its own right. Was it always part of your overall look or did you grow it to stand out in the industry?
My modelling career started off with me sporting a little moustache, then I got bored with that and wanted to try something a little new and daring. There weren't really any beards in the modelling industry at this point; I found a gap in the market, took it and I've never looked back.
You've got a fair amount of ink, do any/all your tattoos have sentiment and meanings behind them? 
Ha, not really, a few of them are just cover-ups of girls' names and silly ones I've had done whilst intoxicated with my mates. I don't condone having tattoos whilst being drunk, but it happens, you know. Most of them are just visually entertaining for myself. I like fun old and new school tattoos, so this is what I have covered myself with.
Do you think that the fashion industry is opening up the spectrum for the ideal image of a male model, and do you think this has engaged a wider audience of everyday men?
Absolutely. I love the male model image at the moment. It's taken a well-deserved step away from that pretty, skinny heroin chic look and has exploded into this real rugged image. With all trends it will fade away, but will never disappear. A lot of people on my Twitter and Instagram comment saying they are growing a beard since they have seen me in campaigns or magazines etc. I love that, I love the amount of beards that I see on the streets up and down the country. It's like an army, a very hairy bad ass army.
What are the five core items that live in your wardrobe?
Plain charcoal and white tees from Cheap Monday.
Edwin skinny blue jeans
JLSA icons suits. (John Lancaster)
Fred Perry slim fit shirts.
What would be your dream booking?
That's a tough one. I've already done some great ones already. I would love to do a fragrance campaign. I've just recently done the Diesel spring/summer 14 campaign with Nicola Formicetti that was shot in New York and the Kooples just before that in Paris. I'm excited for them to come out. Also keep an eye out for other bits next year, unfortunately I can't tell you what just yet.
You're quite the icon on Instagram and Twitter, have you ever had a weird fan experience?
I get a lot of comments on Instagram  and Twitter, not all of them positive. I do get my fair share of abuse. I just find it funny, I never reply though, there is no point in getting into an argument with an idiot. You will always lose. I have a lot of fans sending me pictures they have drawn of me and people are always asking me if they can stroke and sniff my beard, if they see me in person I'm not going to say no to that.
What struggles have you encountered in the industry?
I wouldn't really say struggles but something you need to get used to immediately is rejection. You can't expect to get every job you're up for, there are usually five-ten other models up for the same job as you it's pretty cut throat at times. As long as you have a thick skin and don't take it personally you'll be fine.
If you weren't modelling, what would you be doing? 
I would love to further my career in fashion design. I have a few collections out at the moment – one is with P&Co, and the other is with Toyshades. Either that or go back to my dad's motorcycle business in Wolverhampton. I do miss those days sometimes. The smell of petrol, oil and hard work.
What has been your favourite booking to date?
I have just done a great one but I can't talk about it until it comes out next year. I've worked with Jake Gyllenhaal on a music video that was a fun day, also the Paul Smith Japanese Campaign was a good one. I always love working with Darren Black, he was the first photographer who shot me two and a half years ago and we have become very close friends. Love that son of a bitch.
If you were a drink, what would you be and why?
Jack Daniels – Straight to the point and makes you feel wrong in the morning.
Words by Hannah Lees. Image property of Matthew Pandolfe