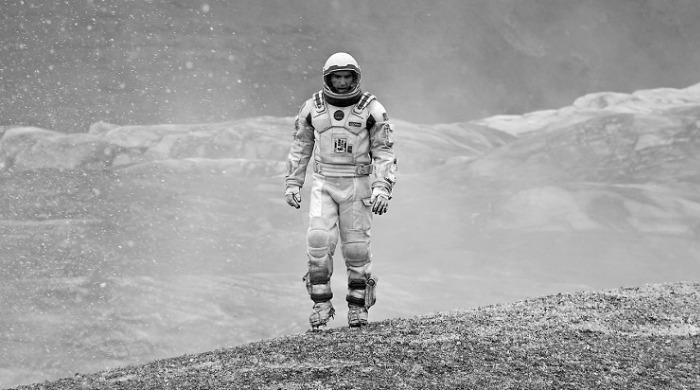 Watching a great film is an experience, one which we love to indulge in as often as time allows. Losing yourself within a narrative and visual landscape is not only a form of enjoyment, it's also a form of escapism from the real world.
2014 has been a pretty amazing year for films from the undulating raw emotion of Starred Up and the bromantic comedy of 22 Jump Street, to space epic Interstellar and the decade-spanning Boyhood. We challenged Joe Anderton, DVD and Blu-ray buyer for Zavvi, to pick out his top 10 films of the year; so let's see what has made the cut.
Calvary

Look, just to be clear, I've not seen Boyhood. It's just something I'm not in a rush to see, but appreciate it is topping many a list across the globe. With that in mind, onwards with my number one, Calvary. The writer-director/actor combo of John Michael McDonagh and Brendan Gleeson add depth to the black humour and off-beat nature of 2011's The Guard, producing a near flawless existential take on catholic guilt within the priesthood. Gleeson is fantastic in his much vaunted role as Father James; embarking on an increasingly chaotic amble towards his inevitable, yet none the less heart-breaking day of judgement. Or perhaps freedom.

Interstellar

Perhaps due to hype, perhaps due to previous high standards, there was a sense of anti-climax following the release of Christopher Nolan's space odyssey. However, on its own terms, Interstellar is by far and away the best, boldest and most beautiful blockbuster of the year. Oddly linear for Nolan, until that bit at least, Interstellar feels like his broadest cinematic brushstroke which, while retaining the sense of mastery, wonder and intrigue associated with Nolan, reveals a humanity and heart rarely seen.

Nightcrawler

Whilst the intense and charmless wannabe is indeed nothing new, Nightcrawler and Jake Gyllenhaal's Lou Bloom do successfully add to this rich tapestry, if not in a completely new colour. Whilst the tiresome and lazy 'Never more relevant than it is now' tag attached to classics such as King Of Comedy and Network can be nauseating, Nightcrawler does not force itself to update these morality tales using shoehorned references to terribly modern panics such as social media and privacy invasion; even the phone hacking is conducted through the charmingly retro medium of police radio scanners. An addiction to fame and the stretch on society caused by 24 hour news? Never more relevant than it was in the 80's; but darkly funny and deeply satisfying.

Guardians Of The Galaxy

As soon as Chris Pratt dons his headphones and dances his way through an alien cave to Redbone's Come and Get Your Love in one of the movie's opening scenes, you know you are in safe hands. Whilst Iron Man was primarily a second tier character in the Marvel universe before 2008's debut feature, the Guardians Of The Galaxy were properly out of left-field. With Star Trek pleasing audiences and the ever visible shadow of Star Wars increasing in prominence, could an obscure band of intergalactic tearaways wrestle for a place in the public consciousness? The answer is a resounding yes. A well balanced concoction of action, fun and heart, Guardians Of The Galaxy proved a worthy addition to the recent Marvel hit factory.

Starred Up

Inevitably tagged 'The Best Prison Drama Since Scum', Starred Up is as close in realisation to that often touted tag as there has been. Eric, played by soon to be Hollywood star Jack O'Connell, is a kinetic beast of a symbol of disaffected youth, who despite an unquestionably monstrous father (fellow inmate Neville), is no anti-hero and sympathies are split. This is more a maze-like labyrinth where the only objective is plain survival, fighting against external and perhaps fatally, internal forces.

Gone Girl

In Gone Girl, David Fincher finds the perfect tone and atmosphere to translate the novel's core story-arch to the screen, and manages to find a happy medium between classic Hollywood storytelling and genuinely enthusiastic/open mouthed tea making discussion topics, and all whilst presenting the years most disturbed and downright best on-screen character.

Blue Ruin

Blue Ruin sticks with you in the same eerie manner in which its protagonist Dwight stumbles through his ill-advised revenge mission in the year's best indie thriller, which much like Cold In July, calls on Blood Simple as its key reference point. To say Dwight is unsure of his mission is to do him a great injustice, but the feeling persists that he is perhaps here by some great mistake of fate. The film's delivery is completely at odds with Dwight's character: direct, tight, lean and showing remarkable discipline; it, like Dwight, does not deviate from its plan.

Cold In July

Stylised and skilfully told, Cold In July is a wonderful little gem of a film that feels as if it is two separate films pasted together. The fact that both parts are equally as good and expertly executed, whilst detracting from the overall tone of the movie, makes it none the less enjoyable. We start with Michael C Hall's protective father and husband killing an intruder in the dead of night, soundtracked by an uber-cool synth-pop ambient soundscape that fans of this sort of movie are getting rather used to. All is not what is seems and the film begins a Coen-esque caper through The South, with a welcome appearance from Don Johnson and an increasing farcical turn of events. Suddenly you are somewhere vastly different to where you started, but you've had great fun nonetheless.

Supermensch: The Legend Of Shep Gordon

Supermensch: The Legend Of Shep Gordon is the story of the legendary agent, talent manager and all round Hollywood Insider, Shep Gordon. To be clear, this is in no way a warts and all tale, sugar-coated and filmed through the rose tinted glasses of actor and friend Mike Myers, you can't help wonder about Shep's inevitable yet unspoken ruthless side. The problem, and therefore the film's magic is the sheer magnetic charisma of Shep, who instantly made it into my top 5 humans of all time. A wonderfully lopsided portrait of a life lived to the full hero. Shep, why you not return my calls?

22 Jump Street

Comedy is generally overlooked in such lists but 22 Jump Street, the sequel to the hugely enjoyable 21 Jump Street, sees Jonah Hill and Channing Tatum's Schmidt and Jenko reprise their odd couple act in College instead of High School, all delivered covered in charming self-awareness that more than makes up for any lack in originality. 'My Name Is Jeff'; sometimes it's all about the delivery.
Words by Joe Anderton. Image courtesy of Paramount.