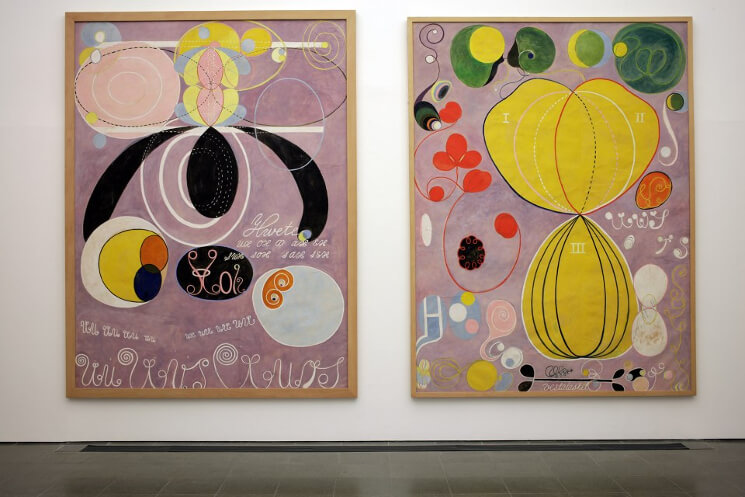 A curated collection of the coolest cultural goings-on this week.
1. Now considered one of the earliest pioneering figures of abstract art, Swedish painter Hilma af Klint has an exciting new exhibition being hosted at London's Serpentine gallery, starting yesterday (03/03). Find more information over at the Serpentine's website.
2. Grammy-nominated French electro quartet M83 have released a new single to coincide with their announcement of a forthcoming album in 2016. The track, "Do it, Try it", comes accompanied with some intriguing artwork and channels influences from '80s TV cartoon series theme tunes.
3. Fresh from his incredible performance at this year's Grammys, Kendrick Lamar this morning dropped a new album, untitled unmastered. By stark contrast to the recent showy launch of Kanye West's The Life of Pablo, the album comes on the back of K-Dot recently claiming to have a 'chamber' of new material and continues in the jazz-heavy vein of To Pimp a Butterfly. untitled unmastered is available to listen to on streaming services Spotify and Tidal.
4. As the world celebrated World Book Day this Thursday, the Anglophone world was treated to a new novel from Norwegian literary phenomenon Karl Ove Knausgaard, Some Rain Must Fall. This fifth instalment of his acclaimed My Struggle series sees a twenty-year-old Karl Ove admitted to a prestigious writing academy full of youthful enthusiasm only to have his writerly ambitions suddenly stripped away by his peers. Translated by Don Bartlett, Some Rain Must Fall is another addictive page-turner of a read from Norway's answer to Elena Ferrante.
5. Noel Gallagher might have famously declared that all you need to write a decent song is a guitar and three chords, but these days it seems instead that all you need is a washing machine. Experimental electronic duo Matmos' latest album, Ultimate Care II, was created entirely by using samples from their favourite household appliance. We'll let you be the judge of the results by checking out a single from the album over on YouTube.
6. Hollywood's film royalty descended on the Dolby Theatre on Sunday for the 88th Academy Awards ceremony. While much was made of Leonardo DiCaprio finally scooping his Best Actor award for his performance in The Revenant, perhaps the biggest surprise of the night was for Best Picture, widely expected to be awarded to The Revenant but instead given to Tom McCarthy's crime drama Spotlight. George Miller's post-apocalyptic Mad Max: Fury Road picked up the most gongs with six awards. See our feature for a full report on this year's Oscars ceremony.
Words by Liam Roberts. Image property of Jerry Hardman-Jones