Born in Bristol, raised in South Wales and settled in East London, Harper Sounds is a singer songwriter with a difference. Imagine what would happen if Rihanna met Radiohead and went round to Bjork's for a cup of tea with Beyoncé, this is a little bit what listening to Harper is like. Pop is at the heart of her sound but it's twisted with haunting instrumental and echoes of hip hop running through, surrounded by empowering lyrics.
We caught up with Harper to find out more about her music, her style and her favourite place in the world…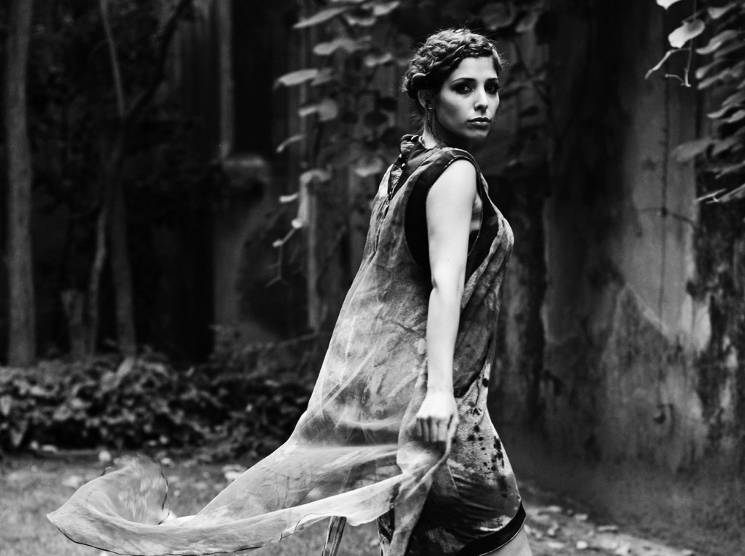 Question:

The video for Animal has just been released, can you tell us about the creative process behind it?

Answer:

For this video I wanted to create something rawly beautiful, exploring themes of light and dark. The song itself touches on the battle between our human principles and our deep-routed animal instincts, so the visuals had to emulate this.

I threw around lots of ideas initially but I always envisioned dancers, so I thought about the movie 'Black Swan' and took some inspiration from that. The masked dancers in 'Animal' play a huge role in symbolising the animalistic force trying to dominate the lighter, purer nature. I wanted to show that as human beings we're all vulnerable to our primal instincts, and that sometimes it's okay to let yourself go and be free!

Question:

Your influences include everything from Rihanna to Radiohead, but how would you describe your sound?

Answer:

My sound is essentially Alt-pop. I like to describe it as 'Pop with an edge'. It's quite a distance away from bubblegum pop as the music features elements of Trip hop, Folk, Dub Step, but the melodies that accompany are catchy and written in a pop style. Ultimately, I strive to make intelligent, ethereal music that tells a story people can engage with.

Question:

You're based in East London, what do you love about the place?

Answer:

I love East London. I've lived all over but East is where it's at for me right now. There are so many quirky places to go, day and night: Broadway Market, Spitalfields, Victoria Park, need I say more? East London keeps my mind stimulated. Like-minded creatives are everywhere; you can be anyone you want to be in East.

Question:

Also, can you settle a debate for us, which is the best bagel shop on Brick Lane?

Answer:

Haha, I LOVE bagels. For me I love Brick Lane Beigel Bake. When a bagel shop is open 24 hours a day… they win! Simple.

Question:

Where is the most inspirational place in the world for you?

Answer:

There are so many places I'm still yet to visit, so that's difficult. But I love the Caribbean. I've spent so many family holidays in Barbados over the years, so I've experienced the music, the culture, the art. It's such a vibrant island, made so by the people and this amazing positive energy they exude. I feel happy just thinking about it!

Question:

How would you describe your style?

Answer:

I'd say my style is eclectic. I love to try new looks, prints, designs, but sometimes it's cool to just keep it simple. My standard 'go-to' look consists of a classic white tee, raw edge ripped denim jeans, a chunky pair of boots and a leather jacket. I love Kate Moss's style from back in the day; her CK shoots over the years are timeless, effortless and super hot! When I've got my glad rags on though, I love to rock a two-piece co-ord outfit, some statement heels and a slicked back hair do.

Question:

What trends will you be wearing this summer?

Answer:

I've never been a 'girly girl' really. I steer clear of florals most of the time, but I will be going slightly bohemian this summer. I'll be rocking some double denim, fringing and some classic Ray Bans. I'm enjoying the '70s vibe right now, with my first pair of high-waisted flares in about a decade. I feel like people in the '70s had a LOT of fun so let's embrace it!

Question:

Can you tell us a secret?

Answer:

My music will let you into lots of secrets!

Question:

What can we expect to see next from you?

Answer:

I've got so much to look forward to this year! I'm putting my first single 'Man Made World' out in July, so will be shooting another video soon. I then plan to release my album in Feb 2016. #excitingtimes
Favourite album? That's so hard… can I have two? 1) Bjork – Homogenic 2) Beyonce – Beyonce (2014 visual album)
Favourite song? It always changes. Right now it's FKA Twigs – Two Weeks
Favourite film? I'm a massive LOTR & The Hobbit nerd, so I'm gonna say The Hobbit: The battle of the five armies
Favourite food? Sunday Roast with yorkshire puddings and an apple pie and custard for dessert. (Can't have a roast without pudding!)
Favourite place? Maxwell Beach, Barbados
Harper's new single Animal is released on the 23rd of May, watch the video here and find out more about Harper on her website here.
Interview by Clare Potts. Images property of Harper.